As you know, I've been sewing a lot lately, I say a lot for me, probably not a lot of time for those who sew all the time. I've been enjoying sewing and creating in general, it has been huge for me. Ever since I started to work, crafting went to the back burner, even with some projects from time to time, I missed crafting a lot, knitting, sewing, basically I just missed CREATING.
Lately I've been focusing in sewing some reusable bags for an association called "Refood", if you don't know the project, basically it's an association made 100% of volunteers that works in avoiding food waste and hunger, you can find more info in their website.
I was never a volunteer for this organization, I actually considered it a few times but at this moment I have other priorities (I don't want to say that I don't have time because I know if I really wanted to I could go), however it was always an organization that I identified myself with. I always hated food waste, I try to avoid it in my house and whenever, due to bad planning, I end up with wasted food I get pretty bad with myself. It's something I've been meaning to talk more here in the blog, waste less food, especially since I'm so passionate about the topic and it might give other people ideas.
Having said that, when I read in this publication in a sewing facebook group, called "Cose+" (which means in Portuguese Sew+), asking for reusable bags for Sacavém's Refood so they could reduce their plastic usage, I couldn't say no to the challenge. Helping people and avoiding more plastic? Sign me up!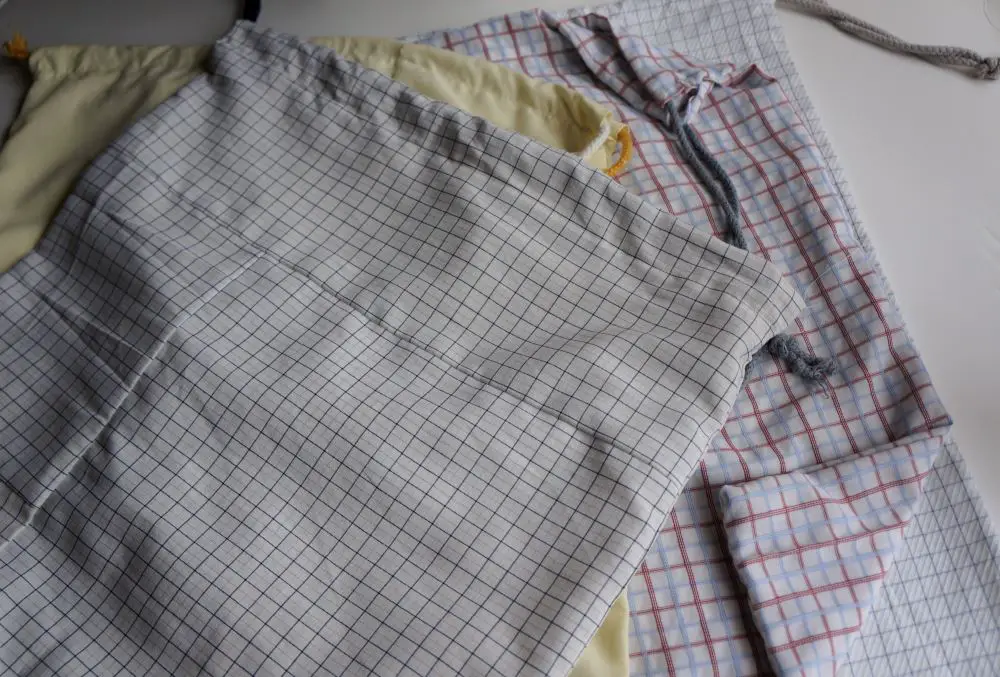 To make these bags, I used some of my Dad's old shirts that were ruined in the collarbone that my mom had stored somewhere and shoelaces, also something that my mom kept for future use. It was a good way to use things that would eventually go to the trash or would keep being stored at my parents for a few more years 🙂 It took me longer than I expected to make this four bags, my lack of experience clearly shows. At first, I just tried to wing it but it never came out right in the casing. I ended up ripping a lot and actually followed this tutorial to see if I could get it right, it was just what I needed. They're still a little bit wonky but I hope they're useful! Slowly I'll become better at sewing.
I invite you to make reusable bags, even if it's just one! It's always helpful. In case you're not in Portugal, what about finding a similar organization and propose to sew a few bags for them?