I was wearing this t-shirt in my first days of college. I wore it a lot but unfortunately it got stained, I liked the color and the fit but once it got stained I didn't wear it anymore.
I couldn't donate it because it was stained which meant that it would go to the trash, the fabric was still great so for a while the t-shirt stayed in my dresser waiting for me to revamp it. I was hoping I'd not have to put in the trash, I'm a big believer in using everything until the end and figuring out what to use them even at the end of their life.
Eventually I saw a couple of projects here and here of bleaching fabric with bleach and thought it'd be the perfect project for this t-shirt. The bleach would get rid of the stain and I'd have a cool new shirt or I wouldn't like the result and would end up using the t-shirt as rags, both would have function so I got down to business.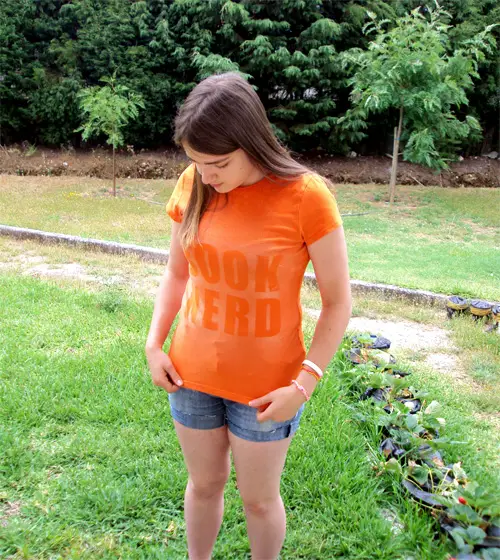 As a huge fan of reading, I thought of making a statement t-shirt to profess my love for reading. I enjoy reading what other people statement's shirts say. I don't own too many of them (perhaps two including this one) but I should have more. How easy is to show your love or your opinion about something with just a shirt.
How to make your own statement t-shirt
1. Trace or draw your letters onto regular paper and arrange it on the shirt. Don't use brand new paper, use written ready to be trashed paper for this or you can use old cereal boxes as well, no need to waste brand new paper. Other tutorials used duct tape or contact paper but I found that it wasn't necessary.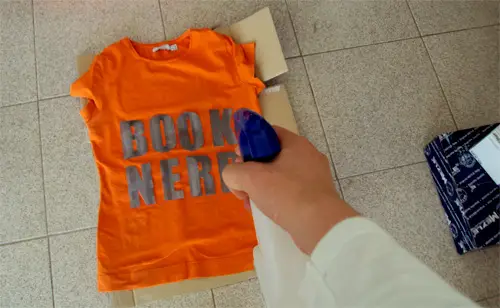 2. Add your dyeing mix to a spray bottle. Mine was 1 part bleach for 2 parts water. I wanted to have more control in the final product so decided it'd be better to have a weaker mixture and wait more. Also it's less probable to end up with holes in the shirt.
3. Put a cardboard between the front and the back of the shirt to avoid bleeding.
4. In a well ventilated area, preferably in the sun, shake the spray bottle and spray the mixture on the t-shirt.
5. Leave it in the sun until it reaches the desired color.
6. Rinse it in water immediately to stop the dye and wash it.
7. Admire your creation!
It looks great doesn't it? And I'm super happy to be able to wear this as a book lover! Please let me know in the comment section if you made this using this tutorial, I'd love to know how it went.
(It's 2019, 8 years after I made this t-shirt and I still wear this t-shirt often!)