The challenge started with such a hot weather, for me this kind of temperature is horrible, I've trouble sleeping and don't feel like doing anything. Fortunately, the temperature has decreased and I've been able to sleep so much better.
What did I eat this week?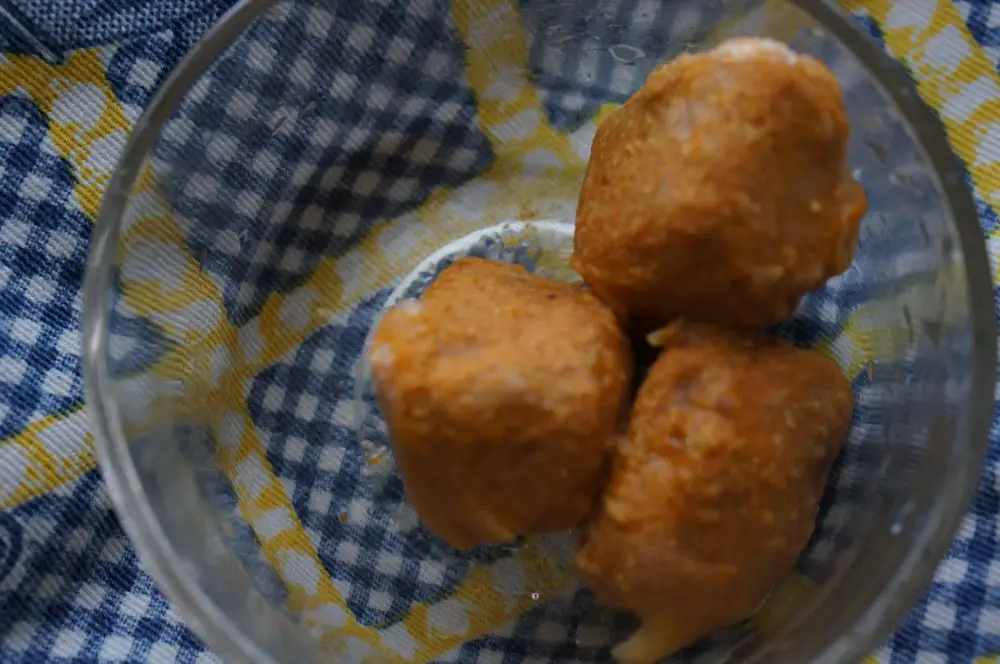 I had these curry sauce cubes in the freezer and I made a chicken curry (end result photo at the top!), we really like curry but I don't have the habit to buy each spice, I like to use this paste. The brand is Patak's and it comes in a glass jar, I bought it at "Flor D'Açafrão". I froze everything in cubes and it's been wonderful, super quick to reach a good flavor. These were the last ones, sometimes I forget they exist to be honest. I added half of a giant zucchini in there to get my veggie fix. I had however to buy cream to make this meal, but totally worth it, since the sauce ended up getting used for two more meals!
Since we had so much sauce for leftovers (the zucchinis watered it down a bit), I divided the sauce into two containers and put them in the fridge. The day after, I cut a huge zucchini and sliced it and sauteed in olive oil. At the end, I added one can of chickpeas. This ended up to give two meals + a little bit that I ate as a side to another meal. Once the food got cold, I added the zucchini and chickpea to each of the two containers with sauce and veggie curry was the result 🙂 I don't have a picture for this but it was super good!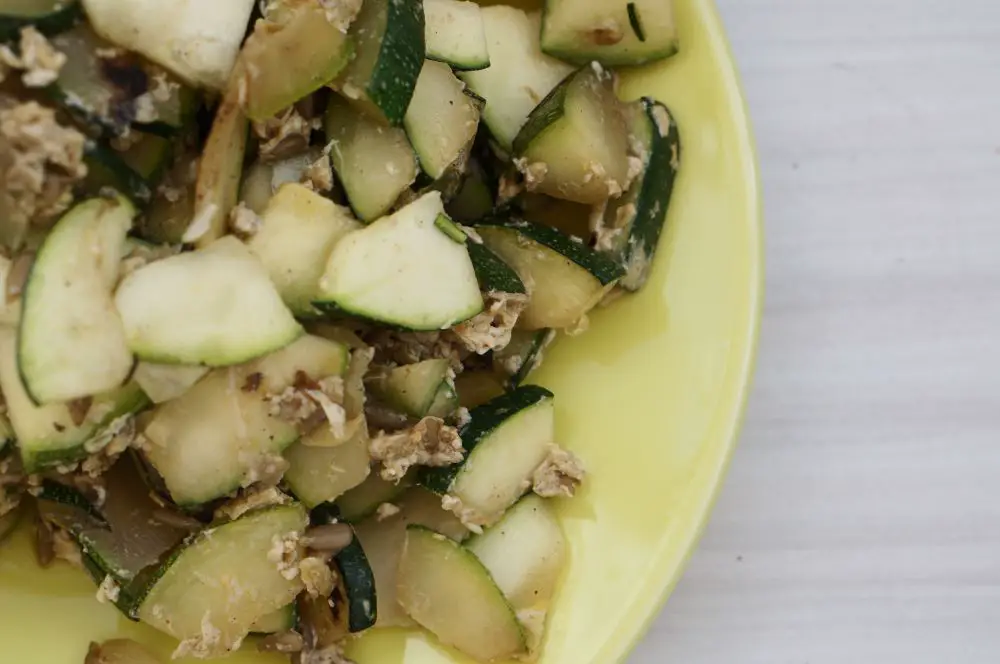 During the week, I went home for lunch and made a quick meal, stir fried zucchini with an egg on the top topped with sunflower seeds/flour. I say flour because most of the seeds were crushed. One of package gone and the meal left me super full!
When the temperature rose, our meals quickly became even more simple to avoid spending time in the kitchen. One of those meals, was grilled turkey breast with salad. In the salads I've been adding a little bit of red cabbage that has been in the fridge for 2 weeks and today at lunch I'll eat the rest, (I prepared it on Sunday and ate it also yesterday). I also been adding carrots that have been on the fridge for a while but since I learned the trick to put them in water, they've been lasting so long, not super worried about those. For the salads, I bought tomatoes since Daniel only likes tomato salad and I added some to my red cabbage carrot salad.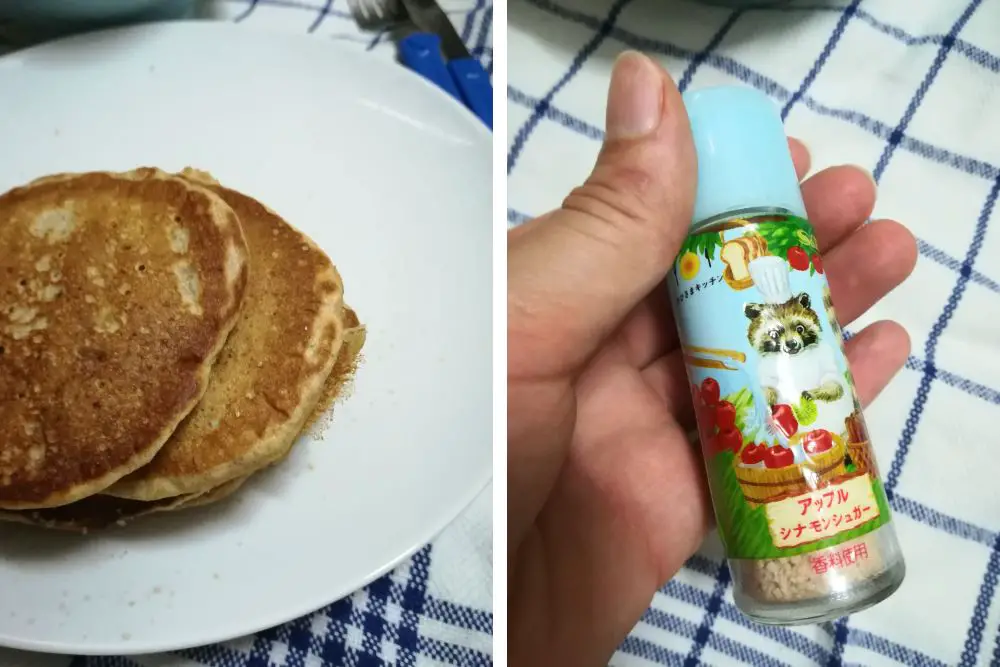 Without courage to go out in the weekend, I also made pancakes to avoid going out to buy bread, I used a little bit of the apple cinnamon sugar that I bought in Japan, I honestly don't know how I'm going to use all of this, it expires in December, maybe I'll give it to someone. The package is so adorable right? I might have bought mostly because of that, of course I knew enough Japanese to understand that I'd like the topping, but the package is super cute.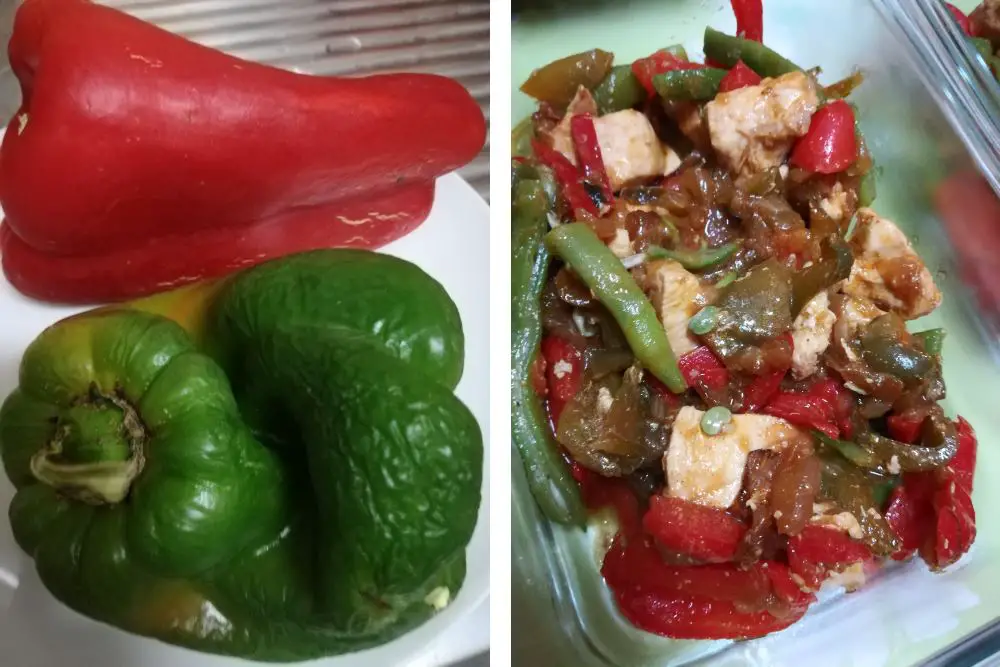 Sunday, I used 2 bell peppers that were getting wrinkled in the fridge, I sliced them and added sliced onions as well, off to the skillet they went and once they were soft I added 2 chicken breasts cut in cubes. Separately, I cooked green beans that my mom gave me and at the end I mixed the two together. It was pretty good.
Yesterday, after arriving from the gym I defrosted and heated a soup that I cooked a while ago, quick and healthy dinner with the bonus of cleaning up the freezer. You can see how I made this soup on Instagram, it's saved in my stories. Even after being frozen, it was good.
And that's all for this week. I still have tons of zucchini to spend and the heat prevented me to use up the rest. And I'll go to my parents for the weekend so I'll probably grate it and freeze it, so it doesn't spoil. We'll see.
Anyone participating? What did you cook this week?