I can't believe I haven't yet written an EasiYo Yogurt Maker review, I have been using it for years and absolutely love it. Today is the day!
Why I bought an EasiYo Yogurt Maker
Let me first tell you why I bought a Easiyo yogurt maker.
When I was living in New Zealand, I didn't particularly like the yogurts there, a lot of yogurts had cream in it which are harder for me to digest. It was pretty hard to find good yummy yogurt and I'm like a yogurt eating machine. If yogurt is missing from my home I go a little bit nuts, that's why it's always nice to know how to make homemade yogurt.
Ok, so I didn't like yogurts that I could buy in New Zealand, now what? For a while I did eat the yogurts that had cream but my stomach wasn't always fan of me doing it. I also stopped to eat yogurt for a while (OMG I KNOW) because I usually spent 3 months there and 1-2 in Portugal so once I was back I ate all the yogurt that I wanted.
But this didn't feel like a good solution, nor bring the yogurt maker that I used with me – a yogurt maker similar to this one. I didn't want to bring something electric that required an adapter PLUS bring all those glass jars with me in my bag.
Eventually, I discovered the easiyo yogurt maker: the solution to my problems! Easy to transport, no glass jars and able to fit a bunch of underwear when traveling back and forth.
How the EasiYo Yogurt Maker works
I could tell you that the EasiYo Yogurt Maker is super fancy and full of advanced technology but that's not true at all.
In fact, this yogurt maker is one of the simplest yogurt makers that I encountered.
This yogurt maker doesn't even use electricity!
If you learned anything about my homemade yogurt recipe is that you need heat to incubate the milk that will turn into yogurt.
Basically, the EasiYo Yogurt maker is a thermos.
You fill the thermos until the mark with boiling water and then put your container with your yogurt mixture there.
EasiYo Yogurt maker will retain the heat enough for the bacteria to do its work.
Why not use a regular thermos instead?
You could definitely buy a regular thermos and try to make yogurt there HOWEVER the EasiYo Yogurt Maker was manufactured exactly for this so it inevitably has some pros.
First of all, there are marks to guide you: first a guide to know how much you need to fill with boiling water, then a guide for you know how much to fill your yogurt mixture.
It also has the yogurt container of 1L (1 quart of a gallon) which seems to fit most households and for me it's usually enough for 5-7 days.
Trying to find a thermos that would be able to fit another jar that wouldn't require me to make several batches is hard.
That's why I think it's worth its value.
When you choose a yogurt maker, there are several things to keep in mind so let's go through the pros and cons of the EasiYo Yogurt Maker, as I can't write a EasiYo Yogurt maker review without going through all of them!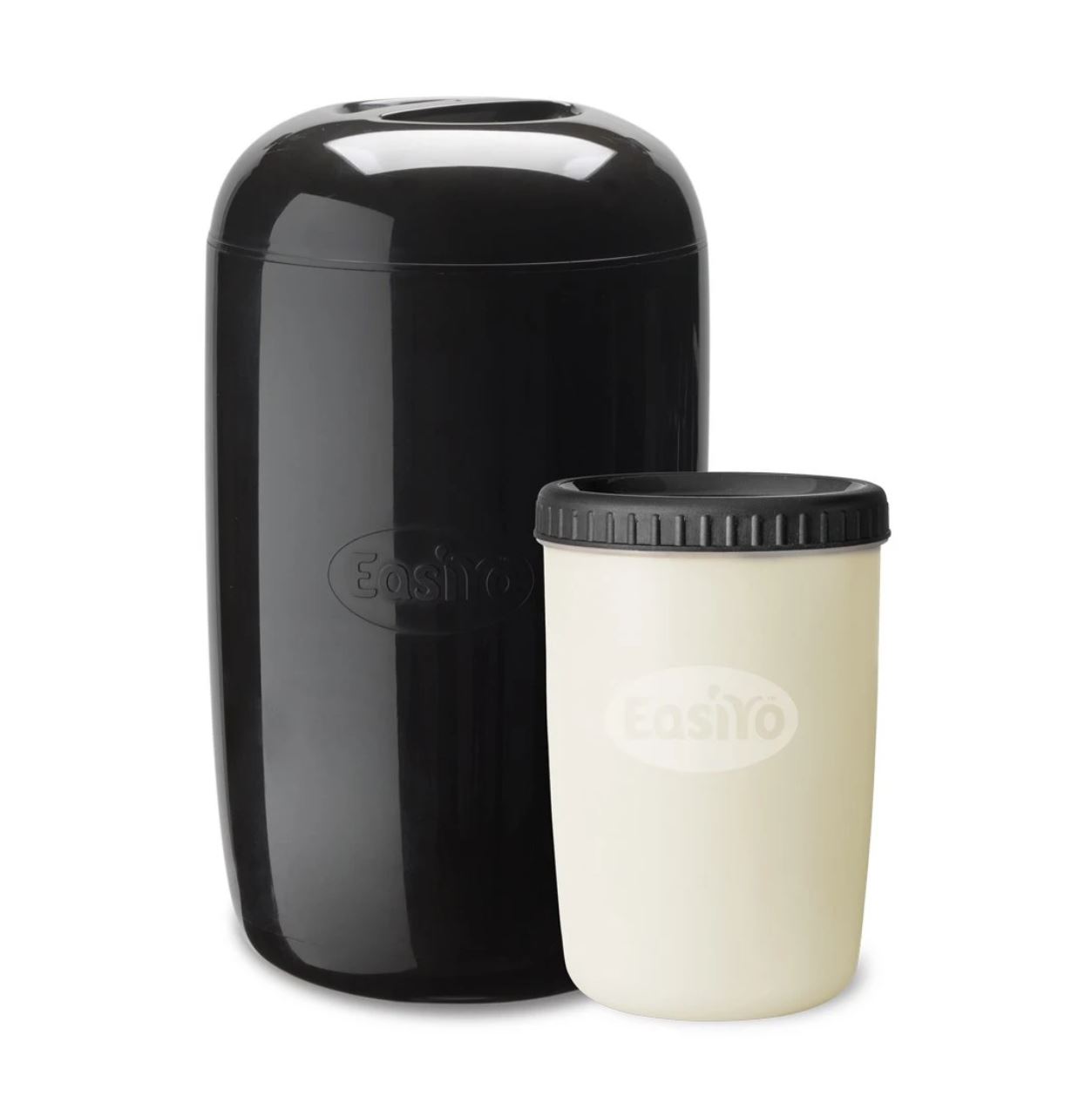 Pros of the EasiYo Yogurt Maker
Portable
I personally feel like the biggest advantage of this yogurt maker is how portable it is.
It has come back and forth with me in my checked baggage multiple times, after so many trips it's still going strong.
Although it isn't super small, it's small enough to be able to fit in one suitcase and it has the main advantage of me not worrying about breaking it because it's all made of plastic. Plus, as I said above, if my suitcase is getting full, all my underwear goes inside my yogurt maker – yes super classy.
At home without much work travel going on at the moment, it doesn't take a lot of space, not in my cabinets nor in my kitchen table which is a big plus when you live in a small apartment.
Doesn't require electricity
Ok. If we're being 100% honest, you do need electricity to provide boiling water to this yogurt maker.
Having said that, most yogurt makers require you to leave them connected to power for the duration of the incubation.
It's always nice to be able to not have a electric appliance working for a long time, especially if you're trying to save some electricity.
Plus, the water that you used to incubate the yogurt maker, can be used to water your plants – nothing wasted here! You know how much I hate wasting stuff.
One Single Container
Ok this might be a disadvantage for you if you like to have yogurt already portioned when you are eating.
I personally like the fact that it's one single 1L (0.26 Gallon) container. Less dishes to wash up and that way I eat what I want.
An extra bonus: EasiYo yogurt bases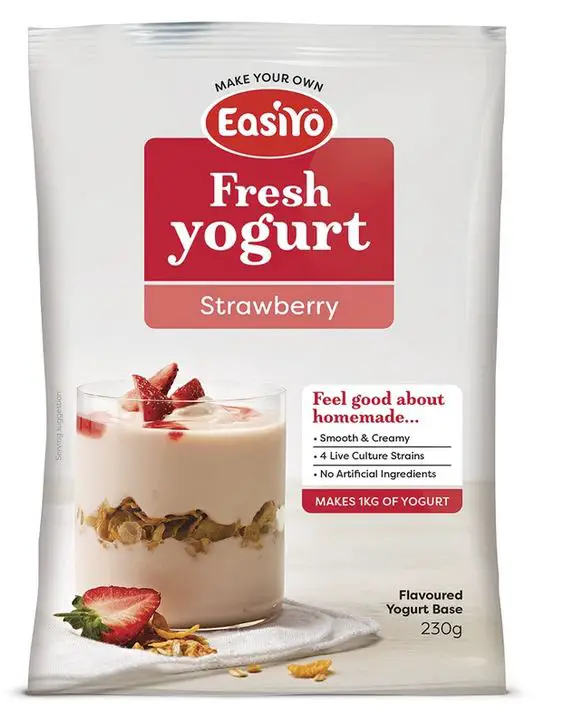 Although I only bought these yogurt bases a few times, they're a good bonus if you want to be even lazier when making homemade yogurt.
I like the bases, however I don't think they're worth the money. For that amount of money you can easily make delicious yogurt at home without the mixes.
Having said, it can be helpful to have those in your pantry when you feel extra lazy and it does have tons of options – from greek, sweetened and a bunch of other yummy options.
Cons of the EasiYo Yogurt Maker
One Single Container
If you want to have yogurt correctly portioned, the single container will be a major con for you and if you're not willing to then pour the yogurt into smaller jars, I'd recommend you to go with a yogurt machine with glass jars. 
There's no reason to buy it if you there are so many options available to fit everyone's lifestyle.
But while fetching more info about this yogurt maker, I found that there are individual sized jars that fit the EasiYo Yogurt maker: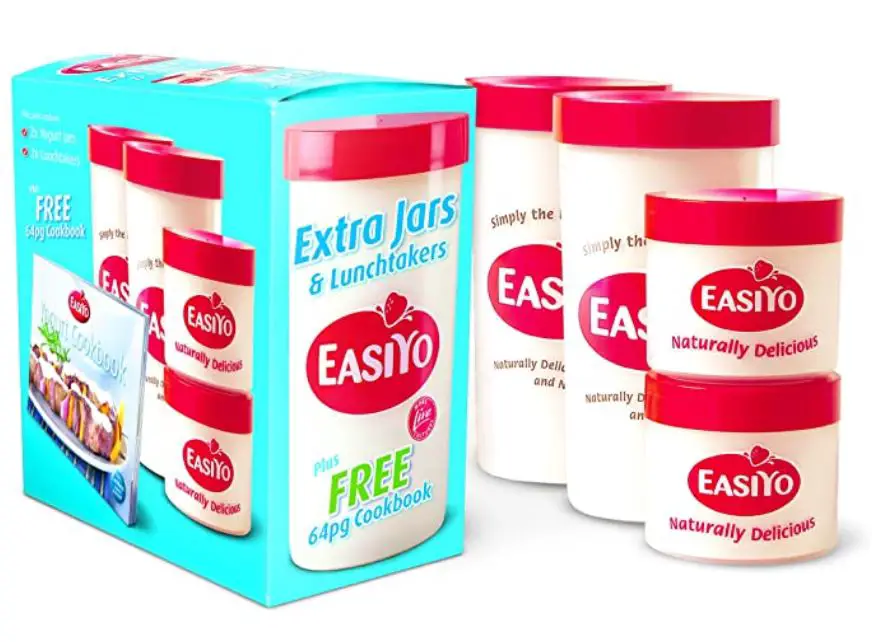 You can buy them here.
It seems to be a good option if you want this yogurt maker.
I don't think there are more cons to the EasiYo Yogurt Maker, especially when I just killed one there! It's pretty simple and straightforward to use.
EasiYo Yogurt Maker review: final thoughts
I think you can see with this post how much I like this yogurt maker.
However I do believe it depends a lot of how much yogurt you make every week and how you like to portion it: if you prefer to have smaller containers with different flavors, this yogurt maker won't be the right fit.
On the other hand, if you're like me and make a big batch of the same yogurt every week, the EasiYo Yogurt Maker is 100% a good option, plus you can use the water that you use to water your plants.
You can buy the EasiYo Yogurt maker here.