If you make a lot of kombucha, you probably have the same question: what can you do with all the SCOBYs?
SCOBYs have been multiplying here and I had no idea what to do with them.
I could give them to someone of course but that's ONE and I have so many!
This question brought me to the rabbit hole of turning the scobys into fruit leather. I loved Bon Appetit's Video, it was a great introductory video and I really wanted to make this experiment myself.
I love fruit leather and I was surprised by the flavor of this fruit leather. It has that kombucha tangy flavor yet it still tastes like a fruit roll up.
I devoured them in three days and I had to restrain myself, otherwise they'd be gone right away. They're so addictive!
If you crave sweets why not make sweets out of scoby? It's a fun experiment to do and it uses up some of them.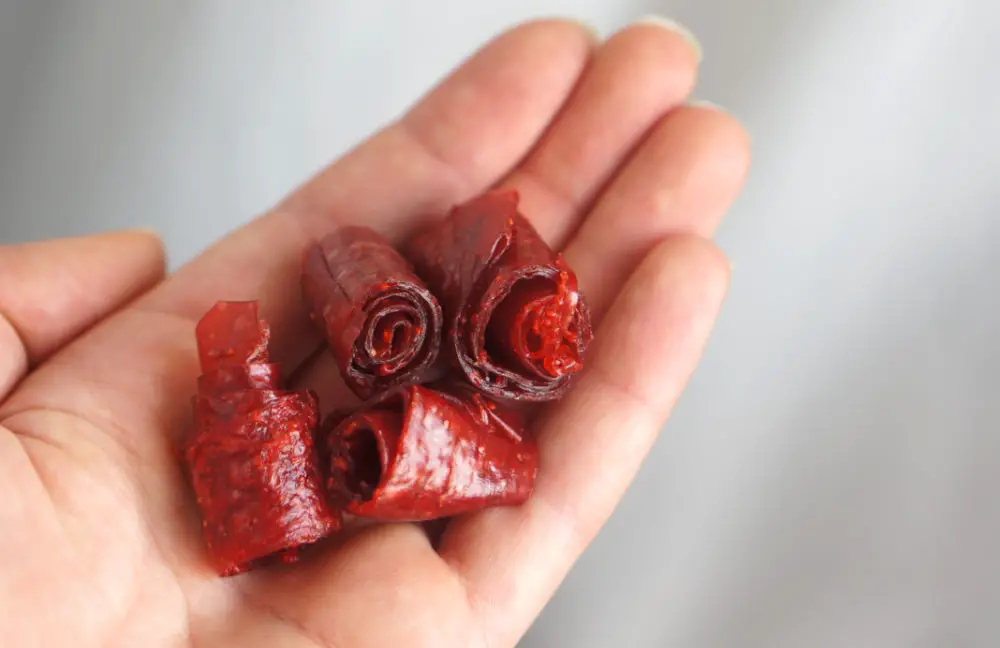 Look at this texture, it's so awesome how it turns out!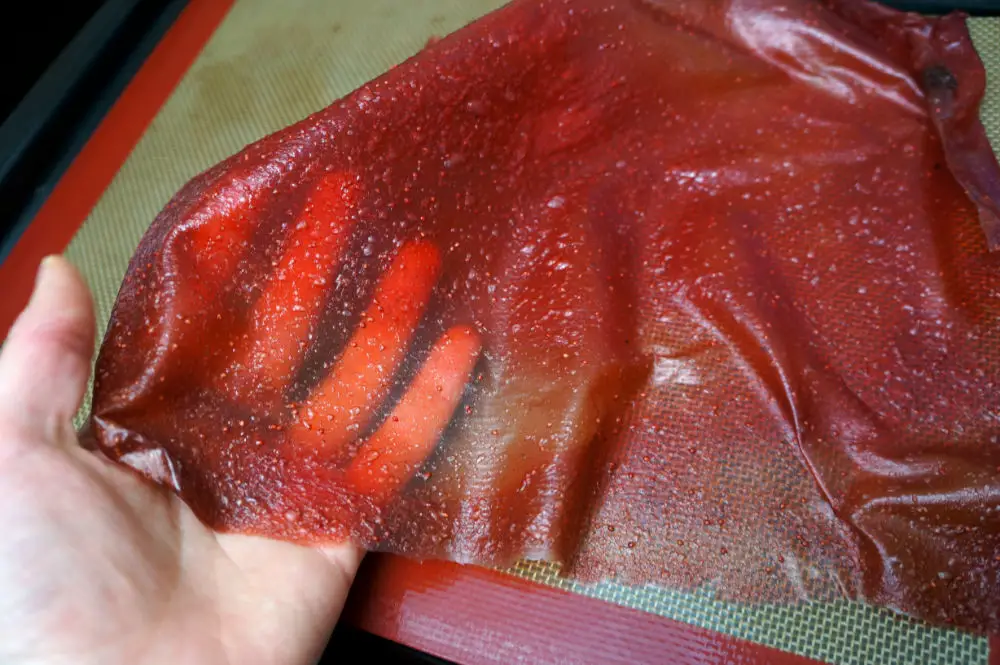 They're pretty easy to do too, you only have to be patient for it to dry up.
A warning on making kombucha fruit leather without a dehydrator
I don't own a dehydrator and I used my oven to make this.
My oven isn't the best to dehydrate things, if I let the door open it will not warm up and it took me a lot of time to reach the right consistency.
The only way that I made it work was to turn on my oven fan.
To be precise it took about 3 days for it to dry, 2 of those days without the oven turned on at night.
And when you're making kombucha fruit leather in a tiny apartment, the whole house quickly smells like kombucha – and not in a good way.
If you've tried to dehydrate food in your oven with good results or if you don't mind turning on the oven for so many days, go ahead.
Otherwise, perhaps the dehydrator here is the best option. The end result is delicious but I don't think it's something to do often. Perhaps multiple racks going at the same time would be the best use of your oven if you try it out. Multiply the recipe by 2 or 4.
Kombucha Fruit Roll ups Video
Kombucha Fruit Roll ups Recipe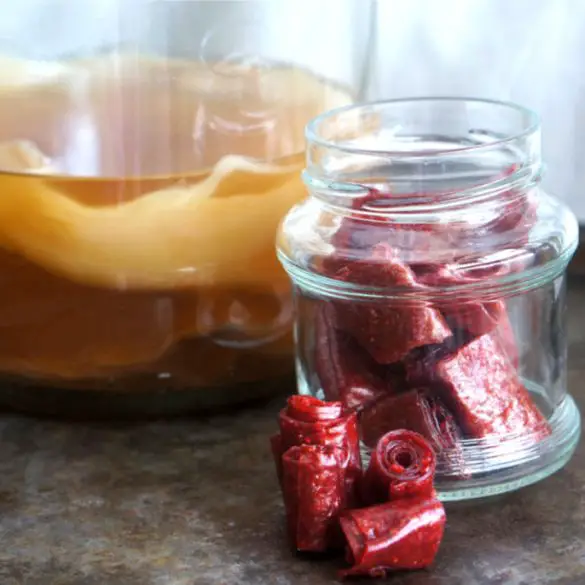 Ingredients
2 cups of chopped strawberries

2 cups of chopped scoby (pellicle)

1/2 cup of water

1/4 cup of sugar

(optional) 1/4 teaspoon extras (cayenne pepper for example)
Instructions
1. Cook strawberries and sugar in medium heat until saucy - about 10 minutes. Let it cool down.
2. Mix all the ingredients in a high speed blender.
3. Pour everything into two trays lined with silicone mats. Sprinkle any seasoning that you want to add.
4. Put in the oven in the lowest setting for 24-32h or in the dehydrator for about 12-24h.
5. Remove from oven/dehydrator and cut into strips with a knife.
6. Store in an airtight container.
If you want to see what I'm up to, check out my Youtube channel and subscribe here.