I never had a business trip that lasted less than two months, it's tough to be away from family and friends, away from our home and working a ton. I'm terribly lucky to work with my boyfriend (maybe something good to write about in an upcoming post? It's definitely not only roses!) and we usually travel together so we've at least each other but going in an extended business trip it's very hard, especially after the novelty of travelling wears off.
I've traveled for work several times now, most of the business trips I took so far were about 2-3 months so I've become quite skilled in packing the essentials in my suitcase. Some of the things I'll be mentioning here are obvious, others not so much. I've come to learn that small uninteresting things make such a huge difference in making my time away from home so much better.
If you're staying in a serviced apartment for your extended business trip (I always try to as I don't enjoy eating out for all my meals) check out my kitchen post, it deserved a post of its own, probably because I'm so passionate about cooking.
Hobby
Whenever I go on a business trip it feels like my life is my work, as everything I'm doing it's mostly work related. My solution for this? A hobby. It makes such a difference to have a hobby away from home, something you can dedicate to that's not work. For that reason, I strongly recommend you to bring one or two hobbies. I'm the queen of multiple hobbies at once but I really can't do that when I only have a suitcase and less time. Pick one or two hobbies to focus while you're away. I usually bring books and/or a project to work on. That's it!
Clothes you really love, pair well together and can survive laundry services
If you know what's a capsule wardrobe this is basically it. When you've a limited amount of space you need to choose clothes that you'll wear over and over again. Important things to consider: if you've pieces of clothing that need special treatment I'd recommend hand washing them and not put it through the laundry service of the hotel you're staying at. That's why I always bring the next item in the list. Or just don't bring those special items with you.
Handwashing laundry soap
I always bring some with me, even though it's something easy to buy everywhere but honestly why? I never use that much, it'd be such a waste to buy one every time I went on a business trip.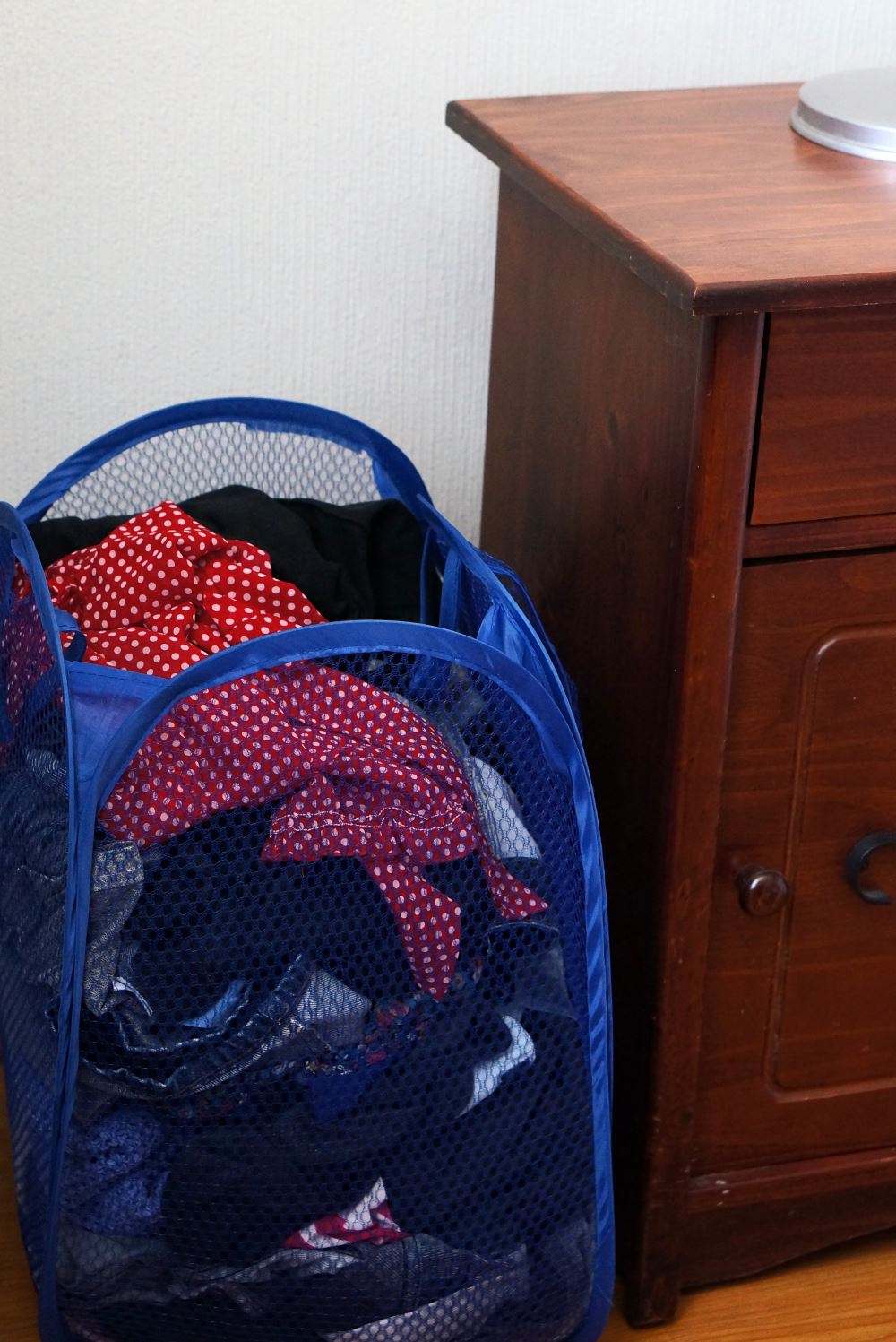 Mesh Popup Laundry Hamper
For some reason many of the places I've been in don't have a basket for dirty laundry. It's such a mess to figure out where to put it so one day I bought a popup laundry basket for 2€ and now bring it for all my travels, it's enough for the two of us. No more mess on the floor.
Clothes organizer
In New Zealand, the serviced apartments we stayed in didn't have shelves to store our clothing, things like underwear or scarves stayed in my suitcase for months. After two trips, I was sick of it and ended up bringing my clothes organizer from college and it's a life saver. It's a little bit tricky to know whether or not you'll require this. If you can contact the accommodation beforehand do it.
Medicine
I like to be prepared and there's nothing worse than having to figure out what will work for you in another country. For those reasons, I'll always bring the basics with me.
Reusable bottle water
Since I work in offices, most of the offices allow me to fill my reusable water so I don't have to buy plastic bottles. I also bring it in my carry on to drink water while I'm travelling, a simple not difficult way to reduce my plastic.
Handkerchiefs
This one is new to me! As I've been trying to reduce my waste I brought handkerchiefs to avoid using single-use tissues.
Reusable produce bags
Didn't bring this before but now I carry my reusable produce bags everywhere so of course I'd have to bring them with me to Chile. I'm definitely less eco-friendly during my business trip as I'm working so much more, including weekends. I knew I'd end up having less time to search for ways to buy in bulk or avoid plastic. Having said that, at least I can buy produce in reusable bags everywhere, a small way to reduce my impact and I'm a big believer that have little bit helps.
Power Extension Cord
With just one travel adapter, a power extension cord allows me to connect everything that I need without worrying too much. This is especially useful because we're two, perhaps if it was just me it wouldn't be necessary.
That's it! What else do you think it's useful to bring on an extended business trip? Let me know in the comments.