Looking for something fun to do on a day outside of Santiago? What about going to Valparaíso? It's an interesting city full of street art and character. Valparaíso has an appealing roughness, if that makes sense.
There are two options to visit Valparaíso from Santiago: go on a tour or go by yourself. Tours are a good option to go somewhere when you want to quickly learn about the history of the place or if you're not comfortable going alone.
Go on a tour
The first time I visited Valparaíso I went by myself and decided to book a tour on tickettour. The company was recommended by my colleagues and this particular tour includes Viña del Mar which is a small city near Valparaíso, it's interesting, might be better on Summer but if you're pressed for time I'd skip Viña del Mar completely. Going back to the tour: it was a good surprise! I had low expectations but I ended up having lots of fun, the guide kept giving interesting facts about the country and the cities that we visited which made me connect more with Chile.
Not-so-good things about going on a tour? Almost everything is rushed and timed which kinda of ruins the spontainety of travelling.
One thing to be aware as well: they usually recommend you a restaurant called "Castillo del Mar" but you're free to choose others if you want. I actually followed their recommendation along with some women from Ecuador, that were also on the tour. Neither of us were interested in paying too much for our meal and we all ended up disappointed. It was 13 000$ but I felt it was a waste of money, I ordered a seafood lasagna that had more sauce and pasta than actual seafood. So if you're willing to pay, the restaurant might be better and I've to admit that the view is amazing.
Go by bus
The second time I went to Valparaíso, I went by bus. If you want to go by your own schedule, going by bus it's a good solution. There are bus going to Valparaíso every hour, it's very easy to get there.
Turbus connects Chile with their bus network and you can easily get tickets from Santiago to Valparaíso. That's the bus company that we usually used whenever we went somewhere but probably there are others. You can get tickets in Tobalaba and Universidad de Chile, there are also tickets available online but I noticed that when you switch from pesos to another currency the prices go up a lot when paying with Paypal!
Once you arrive, you can walk from the station or catch a bus to the actual center or wherever it's your first stop. I'm not sure how often they pass since we went on foot to Plaza Sotomayor (about 3km), it was a good way to quickstart the visit.
So what you should do in Valparaíso? Be aware that if you go on a tour you may or may not have the opportunity to do all these things.
Visit La Sebastiana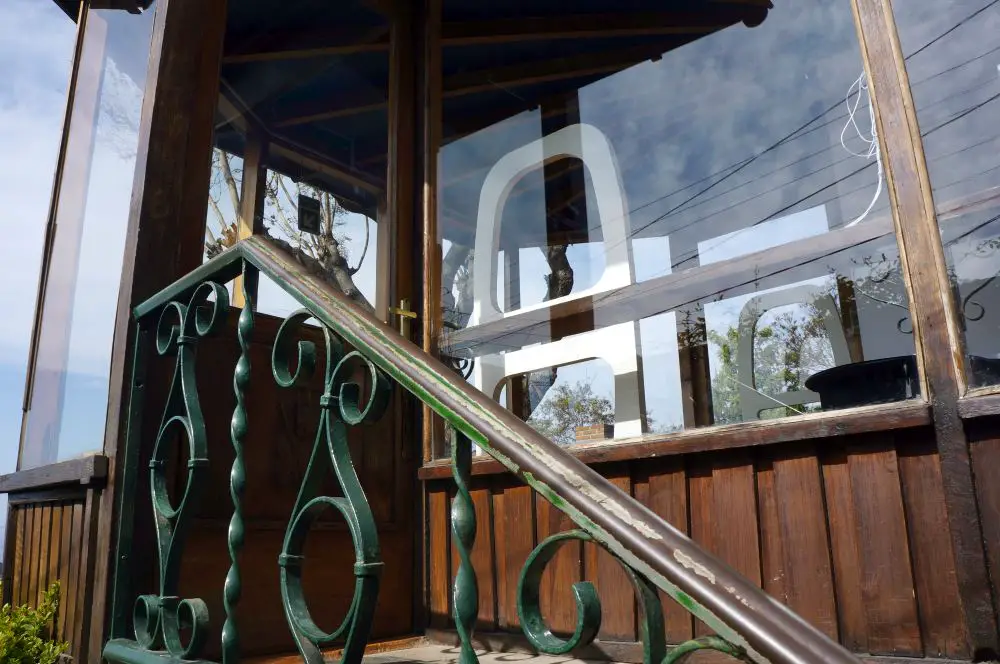 I never read anything from Pablo Neruda, not yet at least. However La Sebastiana, the name of his house in Valparaíso house it's super interesting and worth a visit. You'll be encanted by the view and can't help to dream on living in a house like that! The price for the ticket is 6 000$ and there's a self-guided tour available at no extra cost. I really enjoy having a way to understand more the history and those little walkie-talkie kinda of things are good enough to do that!
Ride a Funicular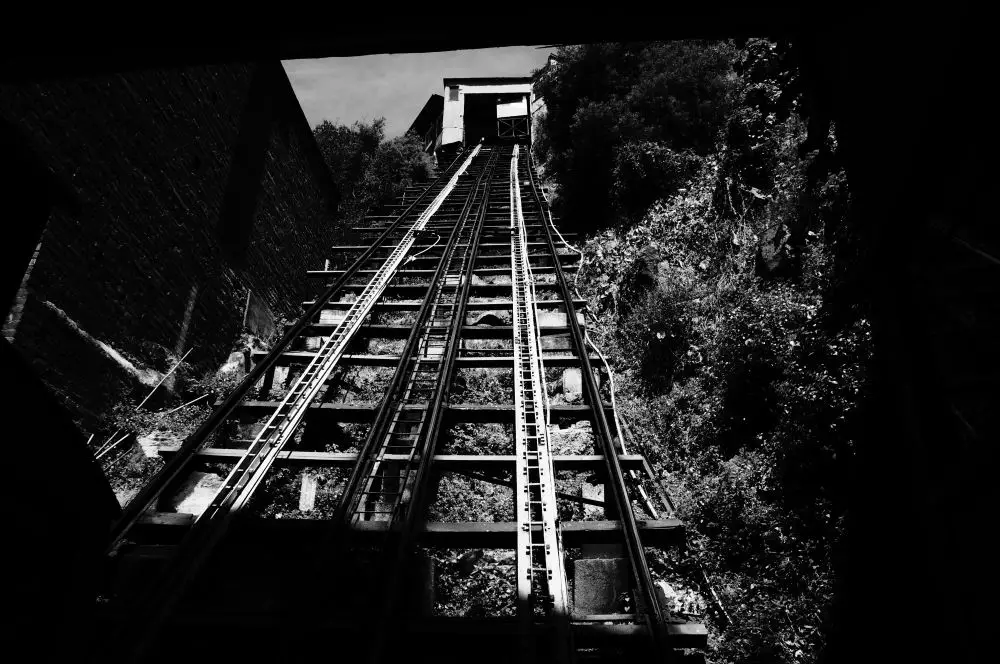 A Funicular, in Spanish, is a cable car. Valparaíso is a city full of hills, kinda reminds me of Wellington in some ways. Just pick the cerro (hill) you want to visit and ride a funicular to go there. You've got a few options here and just decide which one would you prefer to go see! Each one-way ticket is 300$.
Enjoy lunch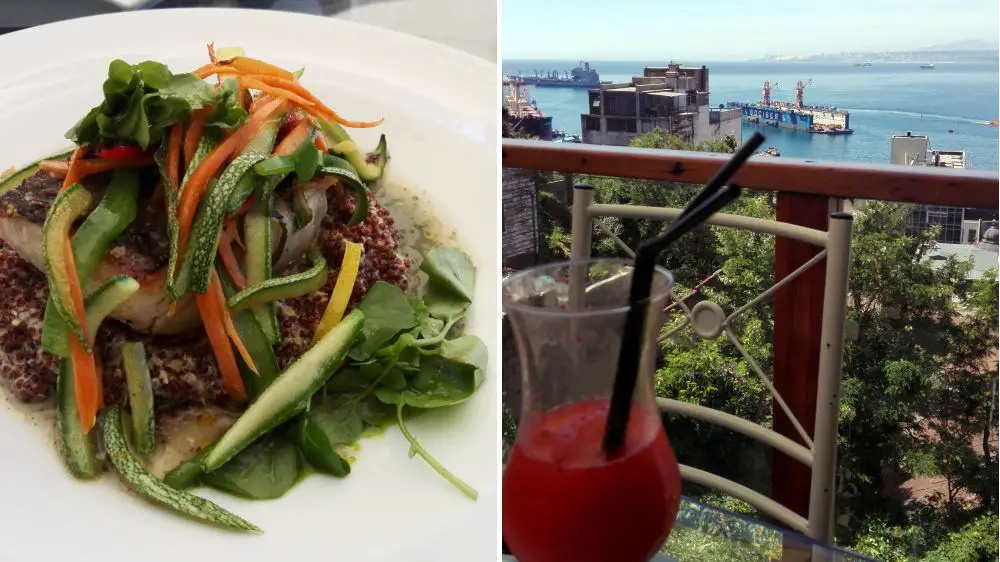 I have to tell you about this amazing restaurant! We're lucky enough to have chosen it because we were just so hungry and all we wanted to do was eat. Probably there other good places but since I only actually ate in Valparaíso once I can only recommend this one.
It's called "La Concepción", the view from there is great and I ate a beautiful fish with quinoa. To be honest it's on my top 3 of all the food I ate during my stay in Chile. I payed 16 000$ for the dish and a drink (strawberry juice), it's not cheap but the food was truly delicious.
Go on a boat tour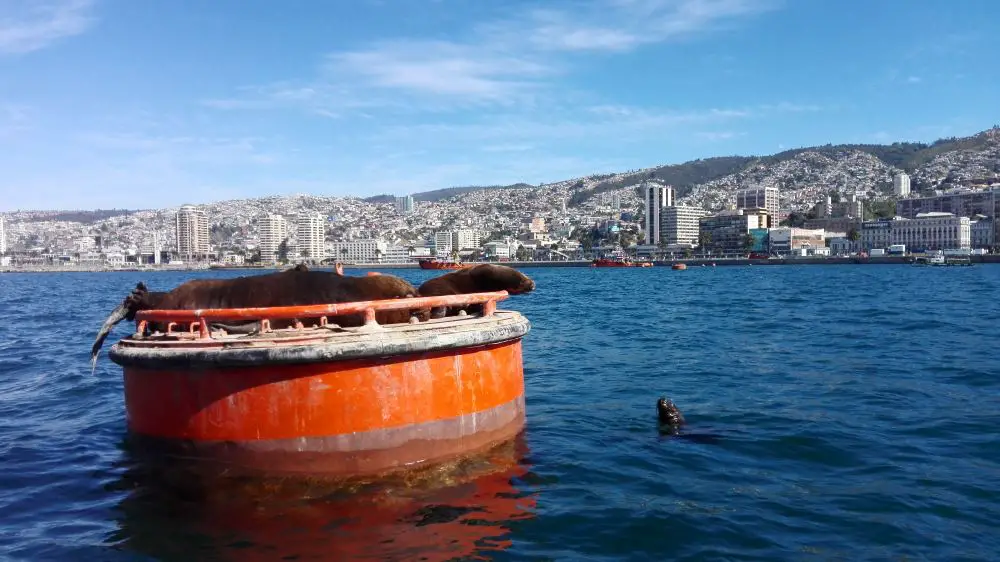 You can ride a local fisherman's boat from Muelle Prat and get a great view of the entire city of Valparaíso. The ticket costs 2000$ which I think it's a fair price and at the end of the ride they ask you to give a tip (not mandatory but if you enjoyed the boat ride please give). You'll also have the opportunity to see sea lions up close, which I thought amazing, the picture doesn't give it justice as I thought we'd be continue but no! They put us even closer, I'd say an arm's length. The guides talk in Spanish so I guess for someone that doesn't understand Spanish at all it might not give you the full experience but it's a fun ride nonetheless.
Explore the street art
Last but not least, explore the street art! As someone who loves street art, I felt amazed by the quality of the art and its grandiosity. Pay attention, you'll find amazing treasures.
I didn't feel that Valparaíso was dangerous but I went both times with lots of people (first the tour, then my work colleagues) so I'd advise you to be cautious and careful with your belongings, specially if you're carrying a camera.
Have you ever visited Valparaíso? What was your favorite thing to do while you were there?