June went by so slowly but July was over in a heartbeat. July was a hot month here in Portugal and unfortunately with a lot of devastating fires.
I slept badly because it was so hot and, honestly? I've yet to recover. It shouldn't make a different but the truth is that I love to sleep with a blanket and it's become impossible to do so.
But this weather also calls for plans with friends and family. I went to the book fair in Maia, I swam in pools and ate way too much often. I don't have vacations planned for now, but some days, the post-work plans make me feel like I'm on vacation as they have that awesome energizing power instead of being a tiring work day. In one of my days off, I also went to the beach by myself and it was magical, I love to plan dates with myself, my introvert self loves gatherings but needs her alone time to not get grumpy.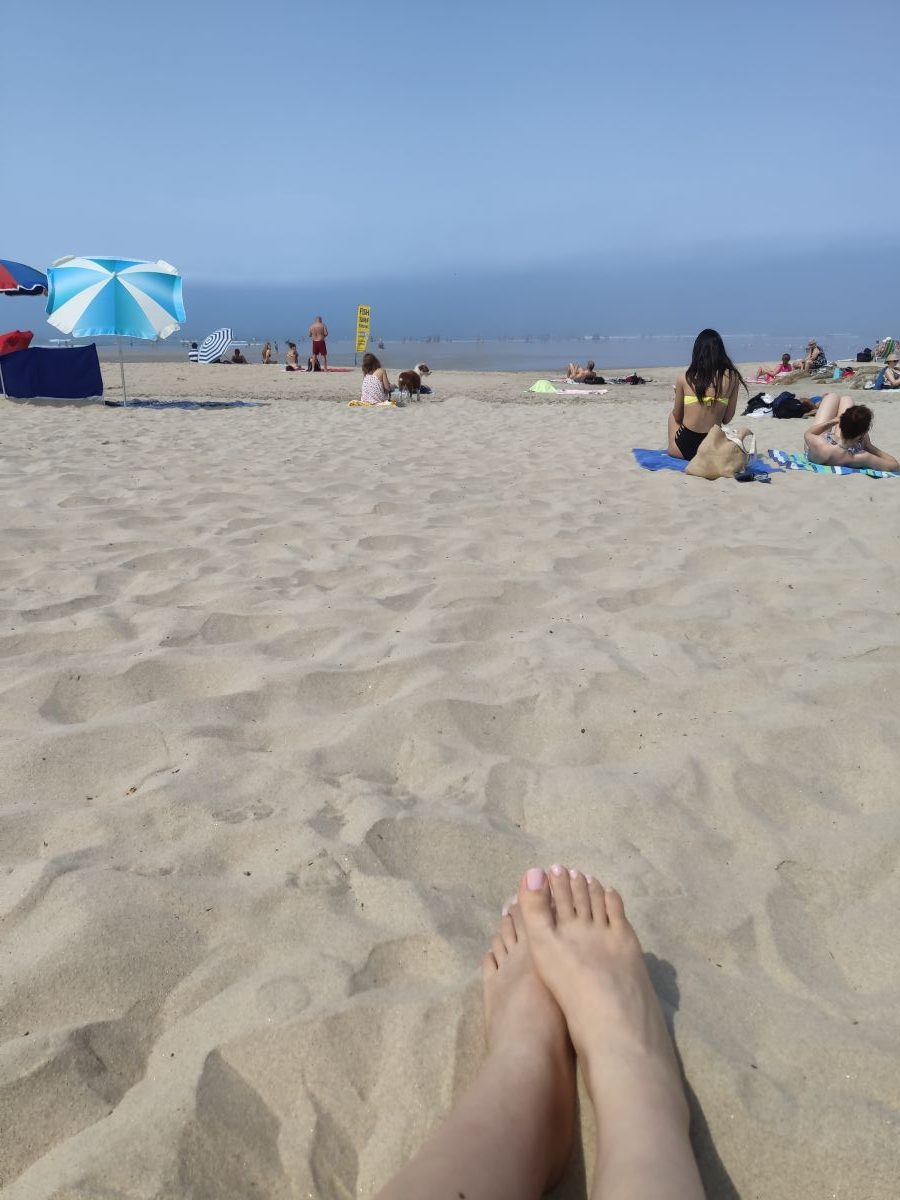 After spending much of June a bit depressed by my inability to use my wrist with my wrist immobilizer and still having plenty of pain, I finally stopped using it. The doctor said there's nothing else he can do medically and told me to stretch every hour while I'm working. I have been doing that and it's helping, but sometimes I still think it'll never get better. I do however need to start wrist strengthening exercises as well, it's one of my goals for August – in fact, it's my only goal.
Hoping that it'd make my wrist better, I also switched desks with my boyfriend since his has a sliding keyboard drawer. It has been now a few weeks and I think that it's helping. Although I have yet to find a good way to organize this new-to-me-desk.
I played football (soccer?) for the first time tin years and it was so so fun (100% spent a whole week with my legs sore)! I never knew how to play but I always found it fun to run after the ball. I've been meaning to join a collective sport of some sort for years, I'd love to play volleyball but doesn't seem to be a good option for my wrist at this moment. After the game, I was told there is something called "Football Fitness" which I'm going to figure out if it's right for me even if I'm not a good player.
I have a good news: the short story anthology that includes a short story written by me will be published in September! And it's currently on pre-sale. Seeing the cover was such a joy and I can't wait to have a copy in my hands. There will also be a presentation in Porto and Lisbon.
Lisbon book fair – 3rd September – 18h
Porto book fair – 11th September – 16h
I got slowly back to my hobbies that needed my hand and in the last couple of weeks I have been focused in making an activity cube for the first birthday of a baby. It was a lot of work, but I'm super satisfied with it. It's probably going to be a while until I write a blog post about it – but I talk about it on the 41st episode of my podcast, in case you understand Portuguese. The pattern is from Crafting cheerfully. Her mom loved the toy, she's a huge fan of Harry Potter and the reason why I went with this gift.