I took the first dose of the COVID-19 vaccine!
Although ever since my parents got fully vaccinated calmed my spirits, I was worried with them because of the stats, I'm also happy to have the first dose. Second dose will be next week! Here in Portugal, people are talking about young people not taking the vaccine and I don't buy it, we want the vaccine (can I still call myself young?).
In my tiny urban garden, basically my container garden in my sunroom, I already got my first tomatoes – they're super sweet, I love them! Other than that, things are not going great in my garden. I can't get rid of aphids and they already killed many of my plants, I tried to spray some of them with water but they are always coming back! It's part of the whole thing I know. Honestly I've also been ignoring this because I can't fix it which doesn't help.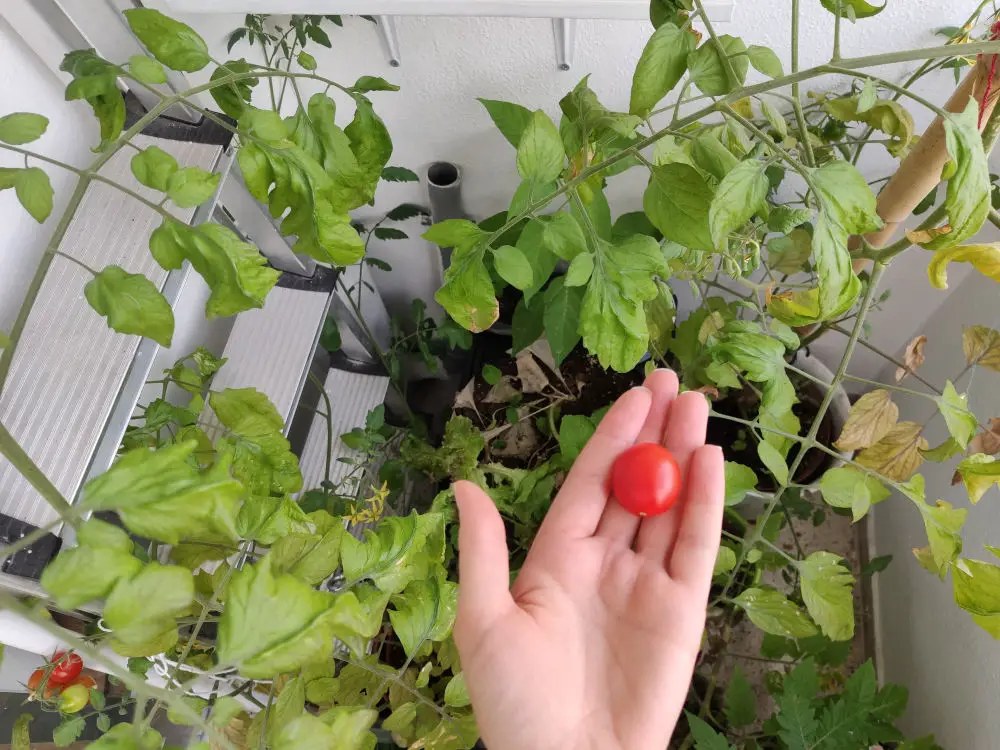 I finished reading most of the books that I had from the library, only remaining "Normal People" by Sally Rooney. Since I have such a big expectation for this book, I'm feeling a huge pressure to like it. I read "One Last Stop" this month and it disappointed me, I guess because my expectations were too high, I'd probably enjoy it more if I didn't have any.
I made the "Traybake Ragú" from the book Flavor by Chef Yotam Ottolenghi – ok I didn't follow the recipe 100% I didn't buy the rose harissa (where am I going to use the rest?) and other small modifications but it was very yummy! It gave a ton of work – it's a shame because I'd definitely do this more often if it didn't. My boyfriend which likes but doesn't love vegetarian food really liked it as well. It gave a ton of food – we ate leftovers for lunch everyday for a week but it was so good we didn't mind. Next time, I'll just make less pasta and freeze portions of the sauce, that way I can have a quick meal in no time. I came to know about this book through
Charlotte from girl next door fashion and I borrowed it from the library right away, it took a few months for my turn, it's really a hot cookbook.
I started reading manga again. I was super addicted in college but somehow I stopped doing it. I read "Spy Family" – really funny, I highly recommend it. Although I prefer to avoid reading mangas that are still being published, I couldn't resist and I'm glad I didn't – it's the perfect way to get back to reading manga. I also read a bunch of manga that I never finished reading, mostly shoujo and one shots. It has been nice to rediscover this interest and how much I still have fun with it.
I also made a big purchase! I bought a sony a6400. It's an upgrade from the one that I had, I have been thinking about buying one for more than 2 years but I couldn't justify the purchase. Some things happened that it made sense for me to buy it.
Normally, I'd buy this used, my older one was bought used, but after some time I decided to buy it new even though I'm such a huge fan of buying used (there were a bunch of possible buys but for multiple reasons never closed). There's still a lot to learn with it, I'm pretty excited! It doesn't have the same problems as the other one did – the two main ones being my camera would turn off in the middle of taking a video and since there was no flip screen there was no way for me to know.
Last Friday, I went to Mercado Poirot and bought some stickers, I didn't need anything but I wanted to support these artists in some way. It's always a good excuse to buy useless stuff.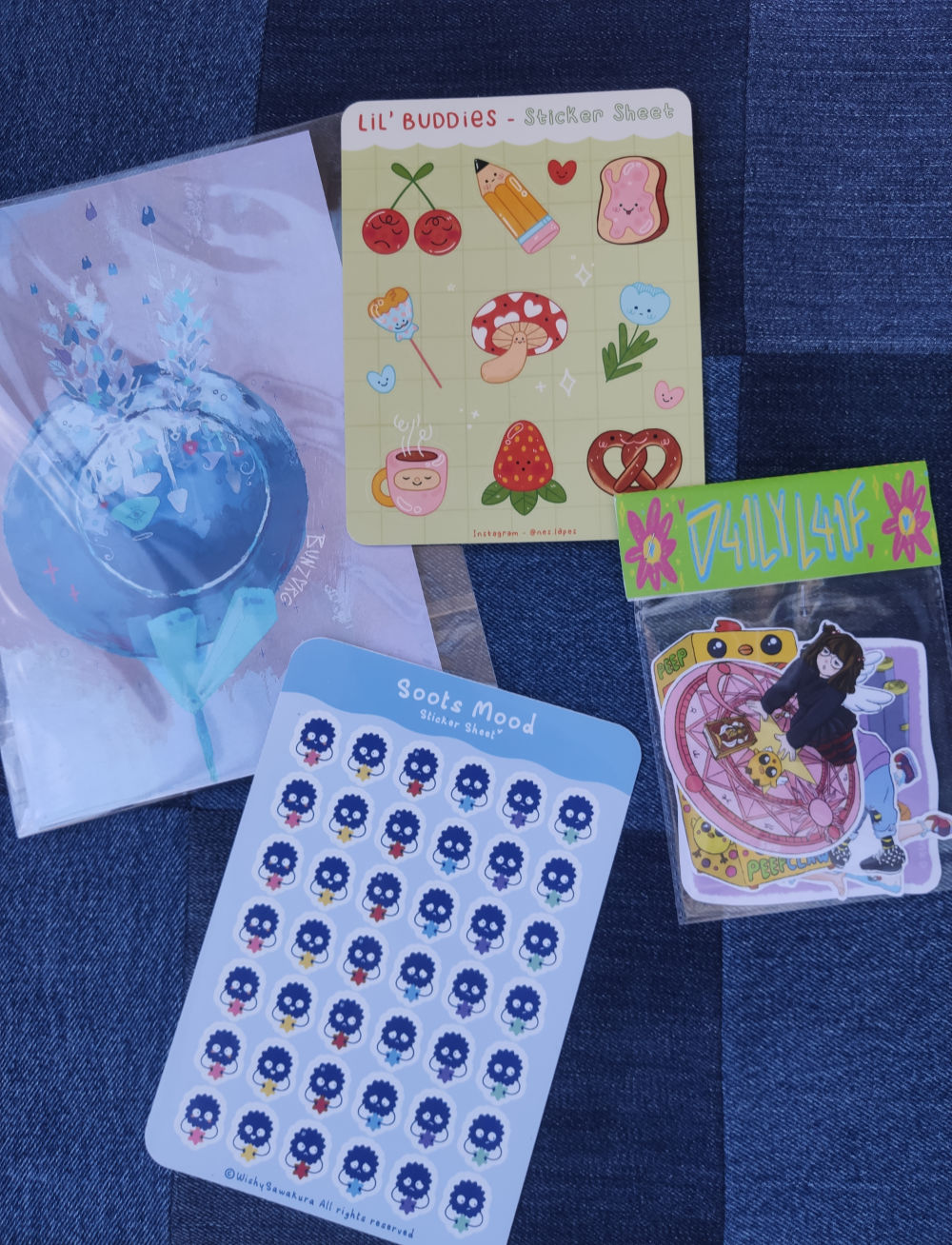 Artists:
nes.lopes
bunzorg
skadi.nysno
wishysawakura
Crafts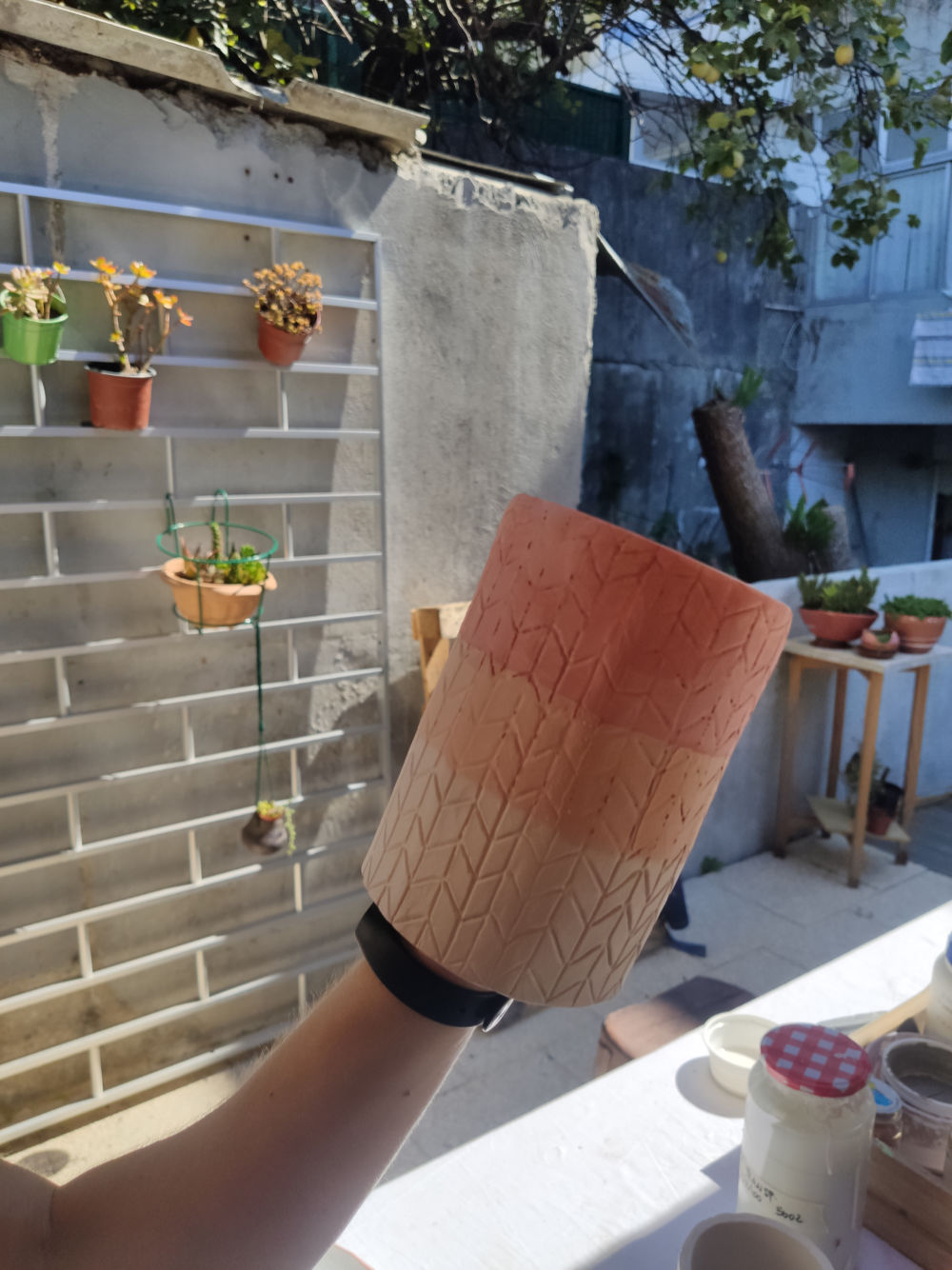 My ceramic pieces were painted and went to the kiln! Honestly I was a bit sad about the final result – I was expecting something much better and it looks like they were painted by children. I know that it's the first time that I'm doing this but the Internet world with its pretty ceramics didn't prepare me for this. Ana from Oficina Azul Colbato (where I went to class) said they were pretty good for the first try but I can't look past how bad it looks ahaha.
Still, after a while, I started to like them more, I'm pretty proud of the work. It was so much fun to see the difference between the colors before and after the kiln.
My favorite piece is the plate. I still need to get some plants for the vases, haven't done that yet.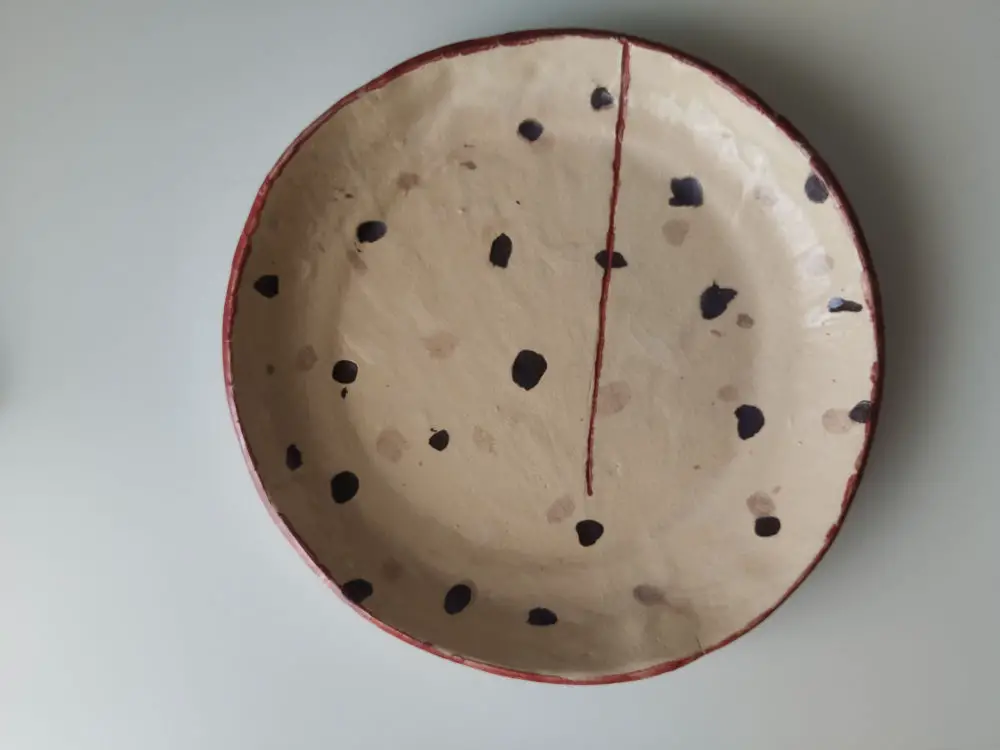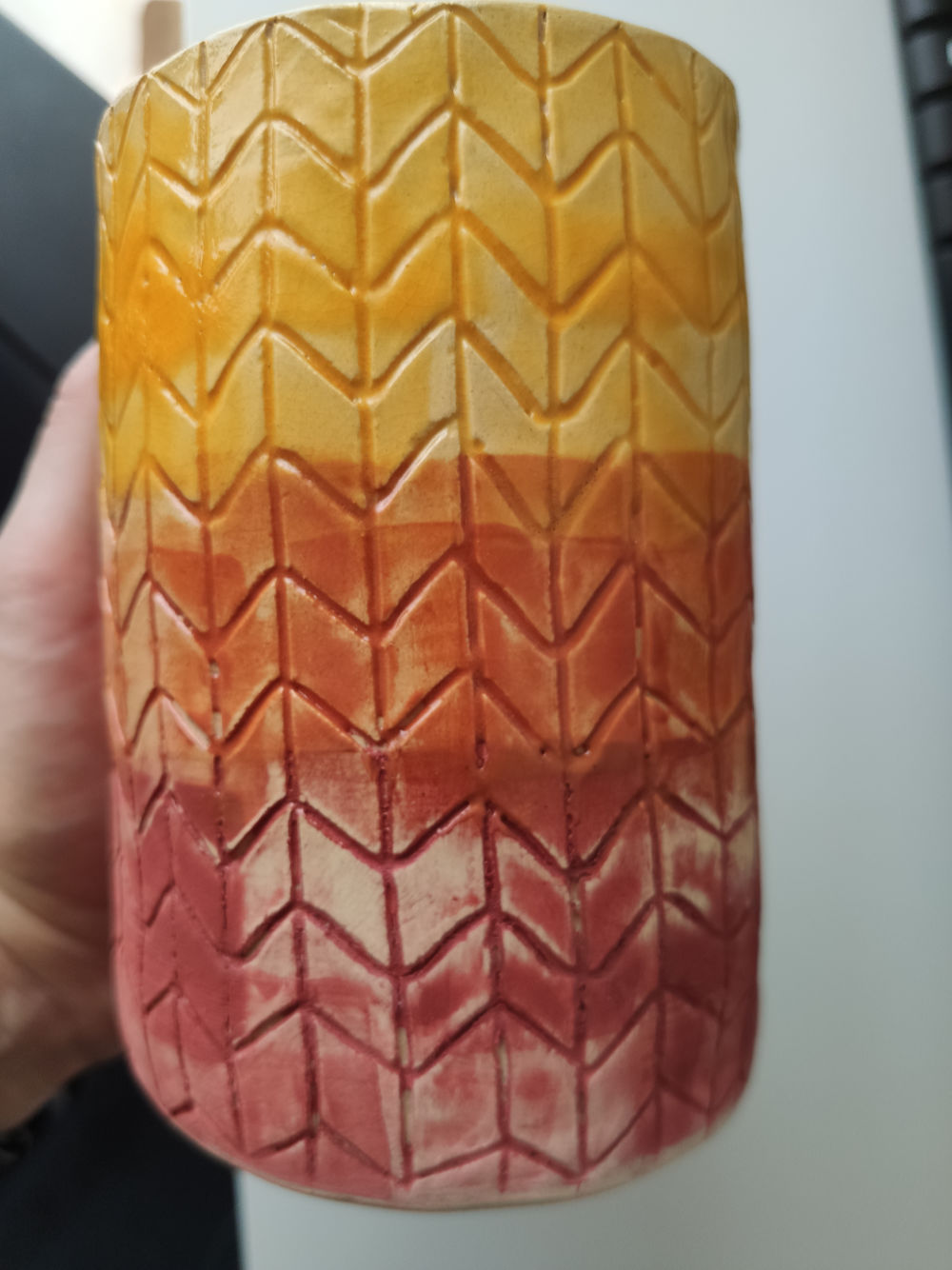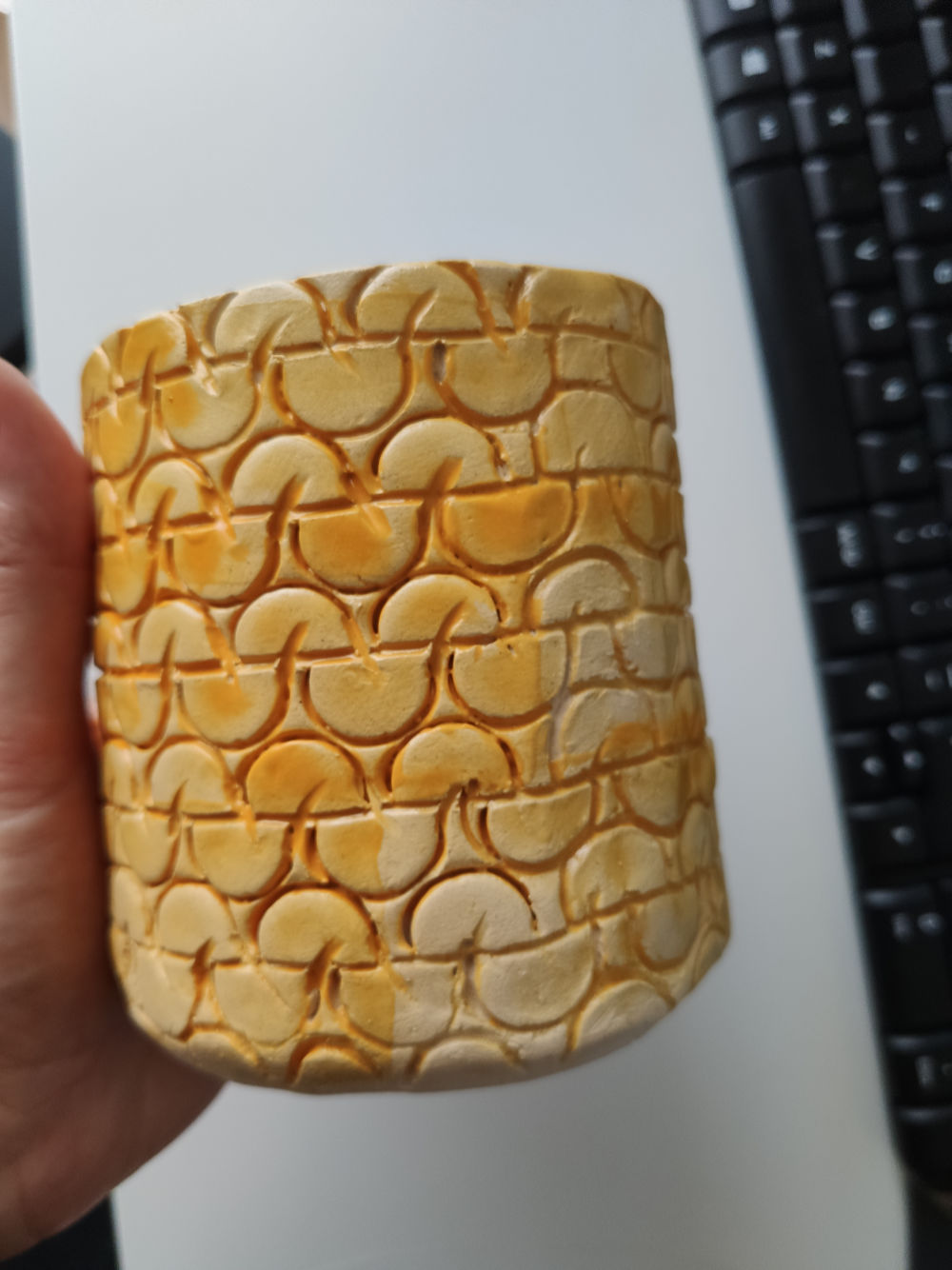 I wanted to sew the other day so I did. I wanted to sew in a more paused way and remind myself that things take time. Since I have a small place to do it I did the following: one day I cut everything and on the other days I sew, trying to do similar stitches or same colors to avoid stopping multiple times. I also did it just half an hour or one hour after dinner instead of trying to do it all.
And honestly, it doesn't take me that much time to set up the whole thing – which is always something that makes me procrastinate on sewing.
I only finished one thing: a dress for a girl that was born at the end of the month. It's not perfect but I'm super proud of how it looks like! I also made a matching scrunchie for the mother (and had to do one for myself too).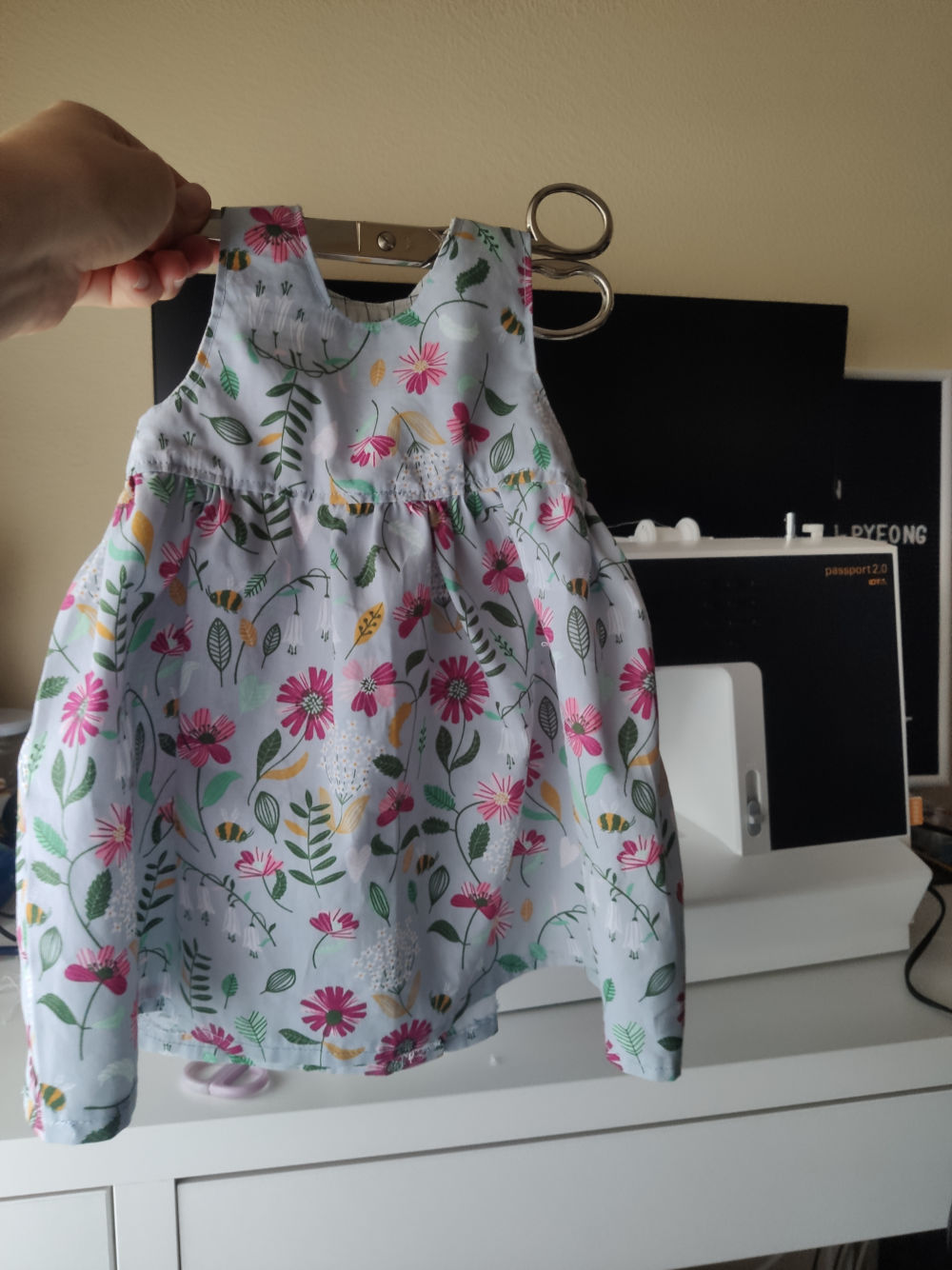 I finished the first sock of my socks with the fair isle flower, they're pretty but I don't think they'll fit. I should have done the colorwork with a larger needle. I'm stil going to wash it to see if it's going to turn out ok but I don't think it will.
The other day, I decided to completely frog my Butterfly Heart Top, I basically was frogging just bits at a time and it didn't work out and honestly frogging the whole thing and starting over was much easier mentally. I'm almost at the point where I was before and I don't regret it.
Books read
☆☆☆☆ Without Merit – Colleen Hoover
☆☆☆☆ Instant Karma – Marissa Meyer
☆☆☆ A clean kill in Tokyo – Barry Eisler
☆☆☆ One Last Stop – Casey McQuiston
☆☆☆☆ Confess – Colleen Hoover
☆☆☆☆☆ Room – Emma Donoghue
☆☆☆☆☆ It ends with us – Colleen Hoover
☆☆☆ The Jane Austen Society – Natalie Jenner
☆☆☆☆ Signor Ridini – Hélène White
Interesting on the Internet
(I have been trying to save interesting articles and videos that I consume online but I still don't have that habit)
The 2021 Early-Retirement Update
I Thought Impro Was Bullsh*t
Developing a Permanent Treatment for Lactose Intolerance Using Gene Therapy – omg I had this video on my queue for a long time and it didn't disappoint! Such an interesting video and watched a bunch of his videos after that too – my brother recommended me watching the video about growing silk out of yeast but I still haven't
Quarantined to Room 903
Os mundos e fundos do RSI (I): Ódios de estimação
100 Demon Dialogues – I already read this last year but reread it
Nobody Cares
How much of your Spotify subscription goes to the artists
So the climate crisis scares you. Now what?
Want to do something? Do It.
This channel