While I like apples, it's not a fruit that I eat a lot.
However, when we reach fall, I can't resist eating more apples than usual, they have so much more flavor when they're in season. And now that my parents' apple trees finally are giving fruit, I can't wait to eat some of these delicious apples. And make apple pie!
But inevitably, peels and cores are being wasted, when they could be used. You know I'm all about reducing our food waste.
How can I use all those apple cores and apple peels?
Make apple cider vinegar.
Yes, you can make apple cider vinegar at home! With scraps!

Apple cider vinegar is one of the easiest things you can make at home. 
Even if you don't want to spend too much time making things from scratch this is very quick to make as you only need to use scraps and sugar to make your homemade apple cider vinegar.
This is a good fermentation first project to make. And if you've kids you can all make a small experiment by whipping up your first batch of apple cider vinegar. 
Why should I make my own apple cider vinegar?
First of all, it's fun! The excitement of an experiment, seeing something that would go to waste turn into something useful. 
Realizing that, sometimes, not everything is as complicated as it seems to be.
And that nature really is wonderful. I live in an apartment and being able to ferment in such a tiny place, without any fancy equipment, just seeing bacteria do their job, it's magical.
There's nothing like making something that you usually buy. You'll feel so empowered that you can make your food from scratch and you'll have a nice feeling in your belly, good handmade food that you can wait to tell everyone about. 
And let's not forget! Reducing your food waste it's so important, why not make the most of what you have?
What if I eat apple peels?
Don't worry. I do too.
I love eating apple peels. And also I'm super lazy to peel apples, even when making an apple pie. I rarely peel my apples. Life's too short for that. Plus vitamins, let's just say that I care more about that than my time.
You can make apple cider vinegar with just apple cores.
What if I don't have enough apple scraps to make vinegar?
Just freeze them so you can use them later. When you've enough, you can make a batch of apple cider vinegar.
I see sugar in your recipe, do I really need to use it? 
Sugar is the food that will be eaten during fermentation that will help your apple sugar water become into vinegar.
If you're avoiding sugar in your diet there's no reason to not use it in this recipe. To make vinegar, the microbes need something to consume so once you've your vinegar ready all of it is gone. 
If you still don't want to use sugar in this recipe, you can try honey.
Fair warning: it's not the same thing and I never tried it so cannot guarantee that it works. If you do try it let me know in the comment section below. 
Where can I use my homemade apple cider vinegar?
Apple cider vinegar has a variety of uses in the most different categories.
Health
Apple cider vinegar is really popular right now for health purposes. From what I can gather most of it it's absolute crap. There's this awful trend of using it as a cure for everything and I don't think it's right. 
However, from what I researched for this post, there are benefits of taking 1-2 tablespoons a day before meals to increase your stomach acid which will consequently aid your digestion. If you've issues because your stomach has a hard time breaking up food do give it a try but know that this might not be the cure to the actual problem in your digestive issues. 
If do you decide to take it, make sure to mix it with a glass of water, if you take it without mixing it with water, it may lead to tooth sensitivity which will then lead to tooth decay. 
Hair
Apple cider vinegar helps keep the pH level of the scalp balanced which alleviates your scalp itch.
Apple cider vinegar is also used as a homemade conditioner, I couldn't help but feel surprised the first time I used apple cider vinegar in my hair. It felt so soft! And after drying, there was no vinegar smell at all.
Cooking
Instead of using store-bought vinegar why not use your homemade version instead? I'm a big fan of using vinegar in my salads but you can use it pretty much everywhere. 
I also use it to make buttermilk when called out in a recipe. Buttermilk is not something that exists in Portugal but it appears often in pancake recipes. I just put 1 tablespoon of apple cider vinegar for 1 cup of milk and after 5 minutes I've buttermilk!
Please keep in mind that this vinegar is less acidic than store-bought vinegar and shouldn't be used for pickling.
Cleaning
You can use your homemade vinegar to clean! Use it diluted to wipe down surfaces.
If you're cleaning drains or toilets, you can sprinkle a bit of baking soda and finish it off with apple cider vinegar. The chemical reaction of the base and the acid will help remove some of the gunk and just scrub afterward to remove what's left.
Notes:
I boil my water beforehand and let it get to room temperature before doing any kind of fermentation. Depending on where you live it might be necessary, especially if the area where you live has high chlorine water. The water needs to be at room temperature and not warm, otherwise, you might kill the microbes responsible for this fermentation.

Fruit flies love apple cider vinegar, I use it all the time to make traps. While making this and especially in the Summer, instead of covering with a thin cloth, I cover with a thicker one. This trick is good to keep them away from your homemade vinegar while it's fermenting. 

Make sure that your fermentation jar is clean before starting to make sure that no other bacteria are going to your vinegar. There's no need to be fancy, soap and water will do.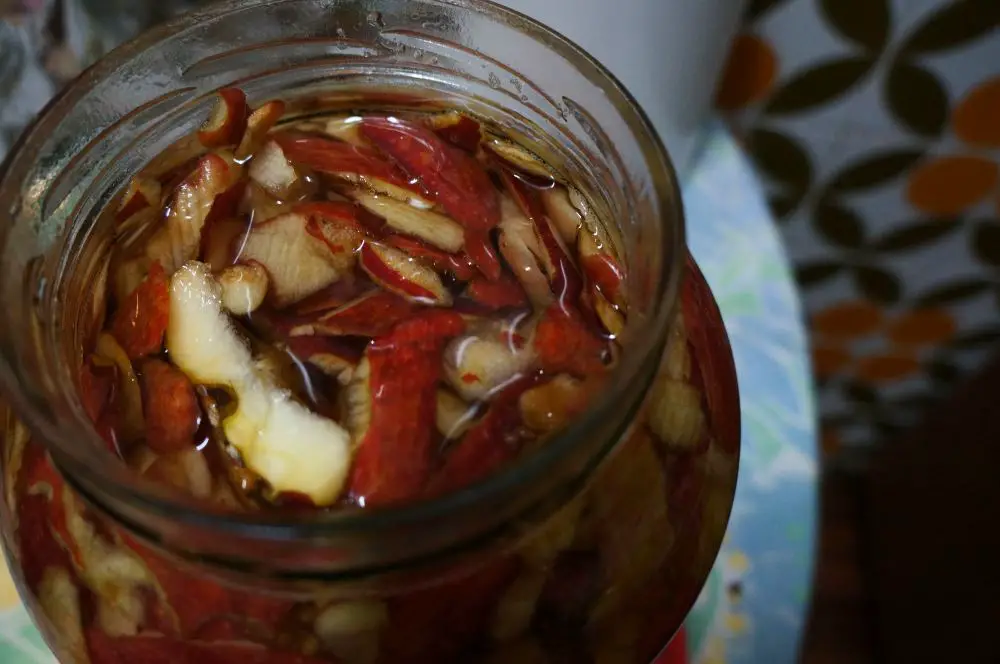 Ingredients
1L Water

700gr apple scraps

4 tablespoons white sugar
Instructions
Dissolve sugar into water

Add in apple scraps (apple cores and/or apple peels), make sure they get fully submerged. Keeping everything submerged will prevent mold. Cover with a thin cloth and an elastic band.

Stir 3-4 times a day, with a wooden spatula, for about 1 week until bubbly.

Once bubbly, stir once a day for about 1-2 weeks until all the bubbles are gone. 

Strain out apple scraps.

Put in your favorite jars (I like to use tomato sauce jars!) and you're ready to go.
Let me know if you try out this recipe, I'd love to know how it went.