Meal planning can feel overwhelming and you may think you don't have enough time to meal prep. There's so much information online on the right way to meal prep but there isn't one. The most important thing is to figure out what kind of meal planning works best for you.
I'm sharing a couple of meal prep tips to help you spend less time in the kitchen while still eating nutritious delicious meals at home. Some of the tips may not work for you, others will. Just focus on deciding which one suits you best. Meal prepping it's such a good way to reduce food waste, eat healthier and save money.
Don't make it difficult
I'd like to start off with the most important point, don't make it more difficult than it needs to be. I've already referred this above but I really wanted to emphasize this! Sometimes we end up sabotaging ourselves because we want to make it just perfect.
That's not going to make you change habits. What's going to make you change is do things that don't disturb your schedule too much. I know you're eager to start this but motivation will run out eventually and creating a habit is more important in the long run. If you don't want to spend so much time in the kitchen focus on easy meal prep.
Always cook more portions so you can have leftovers
Instead of spending the whole Sunday prepping meals, why not just cook more portions every time you cook? It's that simple!
For example, Saturday, when I cook, instead of making just 2 portions, I make 4 portions. That way I've two more lunches for the week. If I'm able to do this for all my meals on Saturday and Sunday, it means that between my boyfriend and I we have 8 meals. We've our lunches ready until Thursday.
It's not always possible to do this as we don't always eat in but doubling the portion size is always helpful and can translate to an easy meal prep for the week. We actually always do this (not only in the weekends) unless there's not enough ingredients or if the meal doesn't reheat properly. We like eating leftovers and I like to not worry about what to eat every single day.
Next time you cook during the weekend, duplicate the portion size. You're already cooking anyway, so you can at least end up with a couple more meals. You don't need to spend all your Sunday afternoon in the kitchen.
Make soup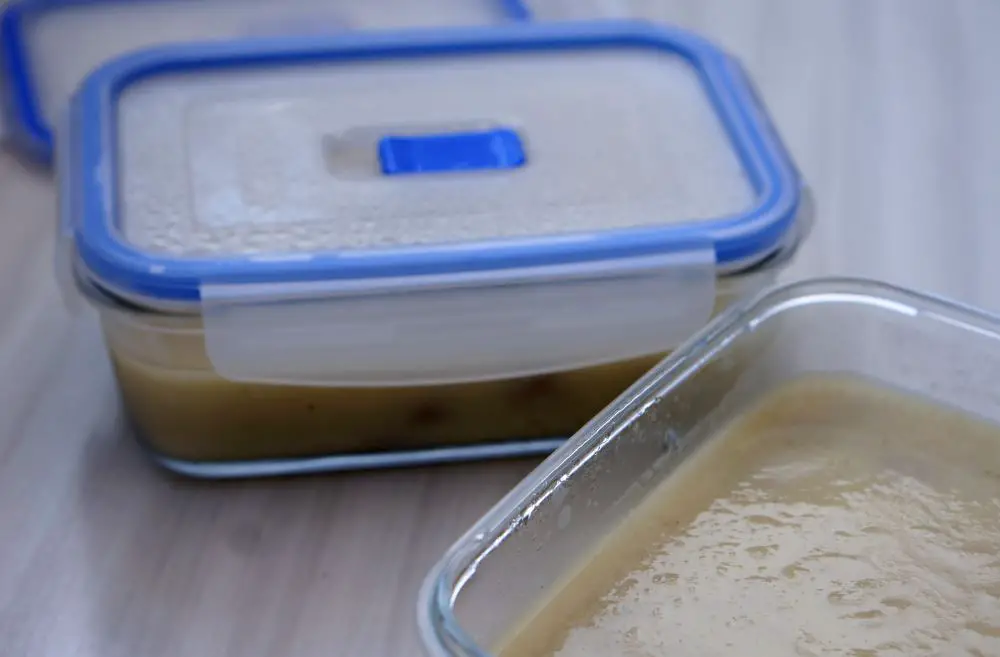 Soup is something simple to whip up and very nutritious. You can make a big batch and eat soup for dinner during the week. You can also add protein to it, like beans (or roasted chickpeas!) or you can mix it up by making a simple vegetable soup and accompany it with something simple prepared while the soup is heating up. Here are a couple of ideas.
Simple things to eat with soup if you don't want to eat just soup
Anything with eggs, boiled eggs, scrambled eggs with chives, a small grilled steak with salad, a toast with almond butter, the possibilities are endless! Don't forget the first point though, keep it simple.
Make one meal in the stove and another in the oven
If you really want to do a meal prep kinda thing, you can optimize your time in the kitchen.
In your meal prep day, instead of making everything in one place, use both to avoid waiting. You can bake something in the oven while you're cooking something else in the stove.
By the end, you'll two different meals in the same amount of time.
You can even have multiple trays going in the oven and have another meal done! Three done!
Instead of prepping meals, prep sides
If you don't want to eat the same thing every day, but still want to meal prep, this might be a good solution for you. You'll spend less time in the kitchen during the week because you've everything ready but you'll also end up with more variety so you don't get too bored.
The concept is simple: prep multiple ingredients and then combine it differently throughout the week.
Here's an example to do in your meal prep day:
Grill 3 chicken breasts
Cook 2 eegs, quinoa, broccoli
Prep lettuce.
The rest of the week, you can make:
Grilled chicken breast with quinoa and broccoli – top off the quinoa and brccoli with a sauce made with soy sauce, sesame seeds and sesame oil
Lettuce salad with one egg, shredded chicken breast with feta cheese on top
Broccoli with chicken breast seasoned with olive oil and minced garlic
Lettuce with cold quinoa and egg, seasoned with olive oil and lemon and with walnuts as a topping
All these meals are slightly similar but they end up being different enough to add variety, so you don't feel like you're always eating the same thing.
So these are my tips. I honestly think that everyone can do a little bit of meal prep and it doesn't need to be an event if you don't want to. If you do however prefer to take one day to make all your meals for an entire month or week, you can take a couple of suggestions of this post and then freeze your meals and heat them up during the week/month.