Our skin is the largest organ of the human body but we don't always give it a second thought. We don't put sunscreen, we don't moisturize it, there's a bunch of stuff we should be doing to treat it kindly.
I'm fairly consistent on putting sunscreen but I've always been bad in putting moisturizers in my body.
I notice it even more now that I go to the gym and I see every woman putting moisturizer after taking a bath. And there I am, not smearing my body with moisturizer! I've been trying to better at it, especially since my skin has the tendency to dry up (particularly in my lower legs).
Body butters is a good way to combat the dryness of our skin and moisturize it.
After making my soap, I had leftover ingredients and in an effort not to waste them, I thought: why not make a couple of recipes with these oils and butters? That's where the homemade body butter comes in. I saw this recipe but decided to tweak it to my preferences.
Since there are so many body butters that are sold that contain preservatives and other additives that we can't even read, this body butter recipe is a good homemade alternative, cheaper and more personalized to our own tastes.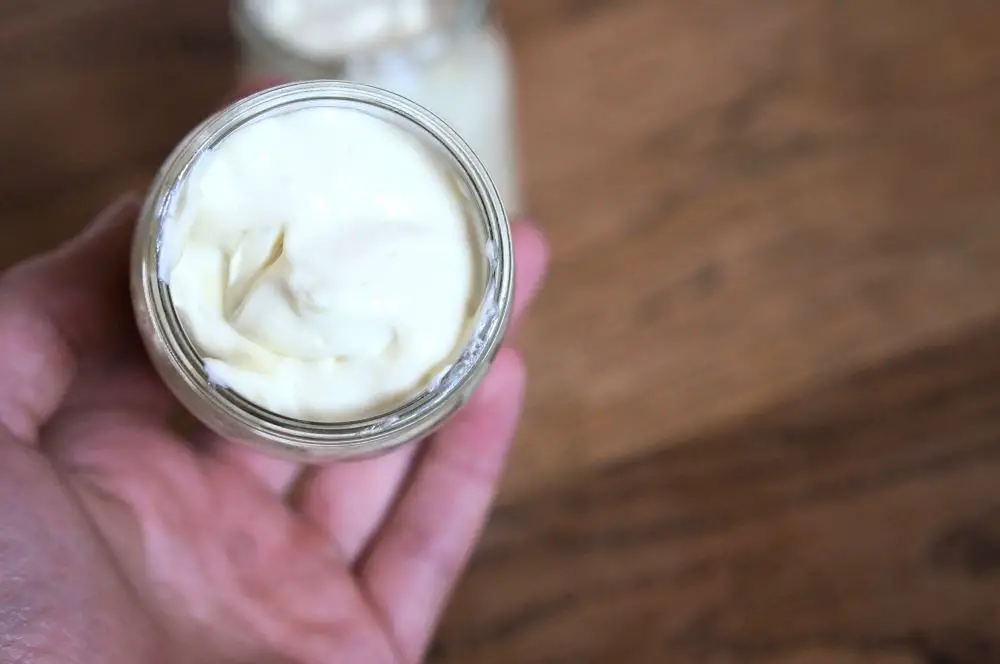 I'll warn you that this homemade body butter is a little bit oily. It's amazing for that Winter skin and to nourish it when it's all dried up. However it might be a little too much for the Summer, I'll leave that up to you as it depends on your skin.
It's also great for older people that have a more fragile skin that require more heavy duty moisturizer. I offered one of the containers to Daniel's grandma and she loved it! I was so glad to know how much she enjoyed this homemade moisturizer.
Commercial body butters are quick to absorb but this DIY body butter isn't, it does take a while to absorb. Massage well your skin when you're putting the butter and let it dry for a bit before putting your clothes to avoid staining them. This makes this a little bit more time consuming that a store bought moisturizer but once you feel how great your skin feels afterwards I don't think you'll mind.
These homemade body butters also make great gifts, in a small decorated jar with personalized scents.
Whipped Body Butter recipe
Ingredients
200gr shea butter
100gr coconut oil
10gr beeswax
10gr castor oil
80gr olive oil
15 drops lavender oil
Instructions
Combine all oils and butters, except the essential oils, in a heat proof bowl and either microwave it or place bowl over boiling water and heat until melted completely.
Remove from heat and let it cool down at room temperature for about 1-2h. This is an important step because it will influence the final consistence. You won't be able to properly whip it if it's too hot! You can put it in the fridge if you want to speed up the process.
Stir in essential oils.
With a standing mixer whip it until creamy. It took me about 10 minutes to reach the desired consistency and I didn't have a standing mixer, good arm workout for me!
Once it's in a consistency similar to whipped cream, you can transfer it to their own containers, you don't need to be too delicate as you would be with regular cream, you won't lose its whip by transferring to the containers. I used recycled yogurt glass containers to store my homemade body butter. Reuse what you have!
Now all you've to do is try it! It will store for a couple of months in a dark cool place but if it's too hot in your home, you can store in the fridge to ensure that the texture remains.
Notes
If you use a spatula to remove your diy body butter instead of your fingers, your body butter will keep for longer – basically when you're using your fingers to scoop it out, you're inserting bacteria in the jar. That's the case for all creams actually, not just homemade ones.
Please note that not every essential oil can be used in the same proportion that I used lavender in this recipe. There are some essential oils that cannot be used in the body in large proportions, please investigate beforehand to insure that it's safe for your body. Essential oils are great but they are very potent and should be used with care. Also if you've a special condition or are currently pregnant please ensure that you do the proper research before using essential oils as some essential oils are endocrine disruptors. You can skip them entirely and still have an amazing moisturizer!