Let me first say that I'm a little bit addicted to manga and anime. I think the whole origin was the anime and manga "Ouran High School Host Club". If you never read the manga please read it, you'll love it.
I'm also interested in different kinds of food (when I think of travelling somewhere I also think about all the food I'd eat). Reading so much manga made me even more curious to the japanese culture. I'm curious about all diferent kinds of beverages they have there, snacks completely different from ours here, all those vending machines, all the kawaii stuff and the japanese culture in general. I really wish someday I can visit Japan. For now I'll continue dreaming.
All this story just to say that I made onigiri. One of the advantages of living in the capital is that I came across a japanese supermarket where I bought sushi rice and nori! Onigiri is something that requires some time (I did mine in about 3 hours) but it was super fun! You should have seen my joy when I tasted them! I ate some for dinner (one filled with tuna, YUM!) and had some left for lunch. You know one more thing I love too? Bentos! I really admire how some people can make so many beautiful bentos. I made mine super simple but I loved the result.
I'll definately make this again.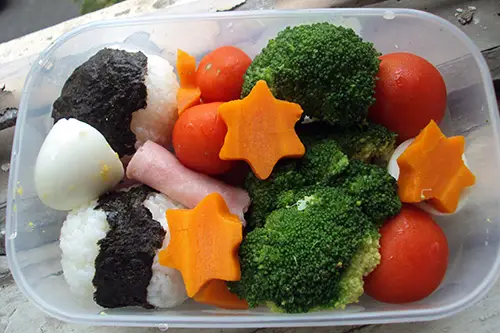 P.S. In case you want to try to make it too Just Hungry has lots of tips in how to make onirigi!