Today I want to share with you my bedroom. In my opinion, it's the prettiest room of the house. All the others end up having to be more utilitarian than nice-looking. The bedroom is the biggest room in the whole apartment, it's far from a big bedroom but it's enough for our needs at this moment.
When I first started renting this house, these walls were not blue, they were a very uninteresting beige color, which usually is the default color on most houses.
One of the times I went to New Zealand, my wonderful mom painted the hallway and the bedroom! I was originally afraid to be honest when she told me she had painted the bedroom dark blue! However all my doubts disappeared after I saw it, it gives a relaxing vibe to the room.
The yellow dresser was also painted, but this time by me. It was my first real remodel that I did to this apartment. I bought a used dresser in OLX, they even went to the apartment to deliver it, for 25€.
I bought the dresser shortly after I broke my ankle, I was still with my crutches but without the cast. I was so eager to do something again! My living room became quickly a battlefield. Since I lived alone I could actually afford to do that. I just covered the floor sheet and the fun began! Every day after work I'd work on it. After 6 weeks with the cast, this was a great change of pace.
I never painted the handles as I should have but I'm proud of the outcome anyway.
The top of the dresser is decorated with my jewelry and it serves as a bedside table.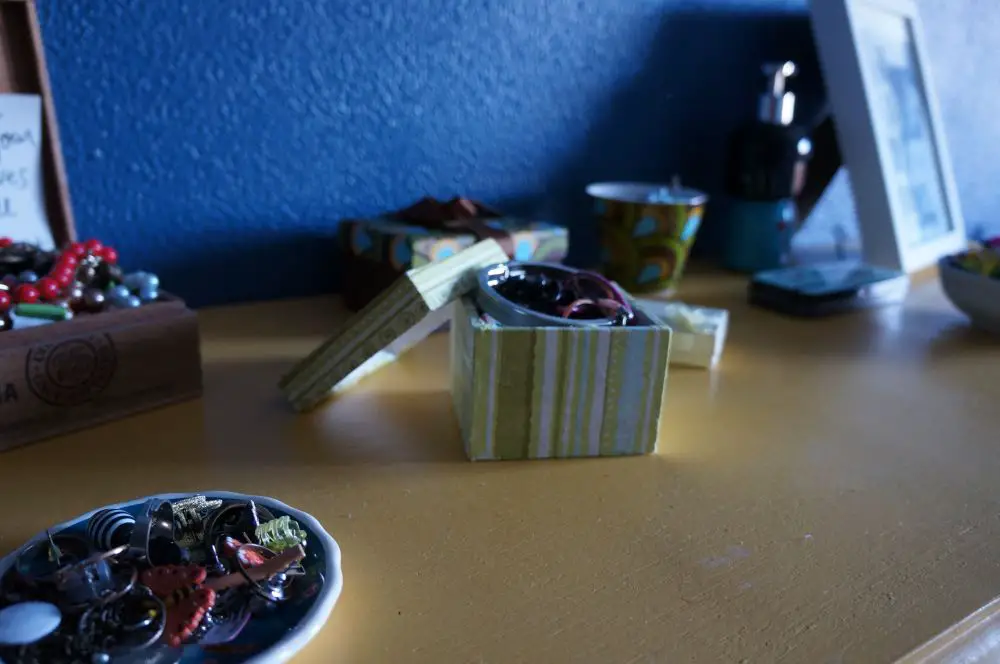 The photograph below shows how the room was initially, apologies for being out of focus, but it's the only photo that I have that shows the bedroom entirely. I originally had a bunk bed, this was the bed that my brother and I slept when we were still living in France, it's not always a bad thing that my parents keep everything! I was lucky enough to not have to buy a bed when I moved in. I started sleeping in the bottom bed after I broke my ankle (couldn't climb the ladder!) and I had two upside-down fruit crates covered with a small kitchen towel as my bedside table. The top bunk was useful to put all sorts of stuff in there 🙂 It ended up getting converted into a sofa for the living room, which I'll show you some other time.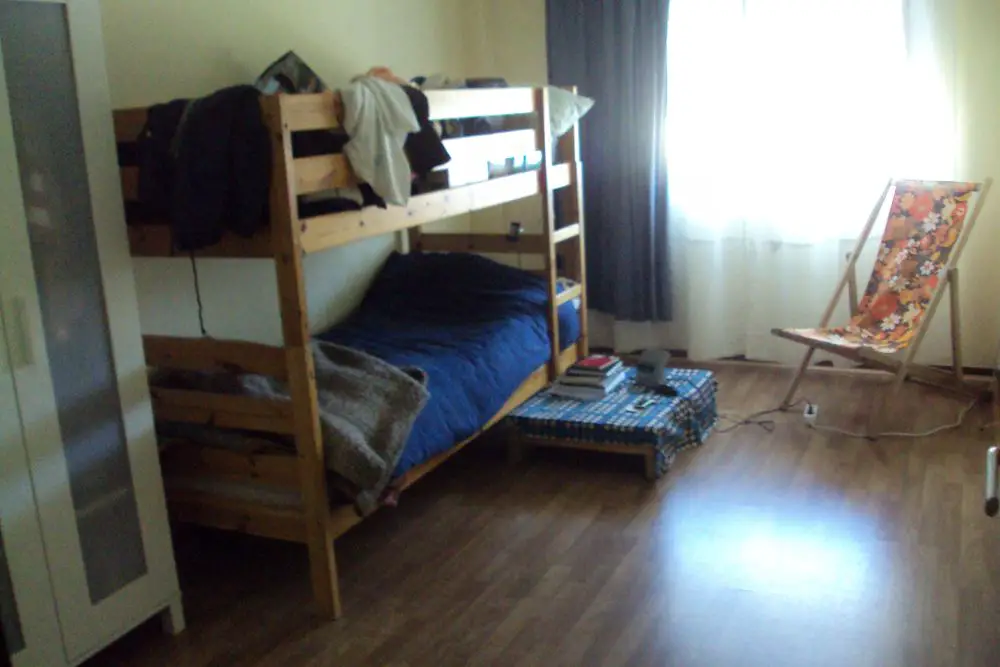 When Daniel went to live with me, we had to get a new bed and mattress. We decided right away that the bed needed to have storage, you cannot have too much storage in a small apartment. We decided to buy a beautiful bed in Conforama.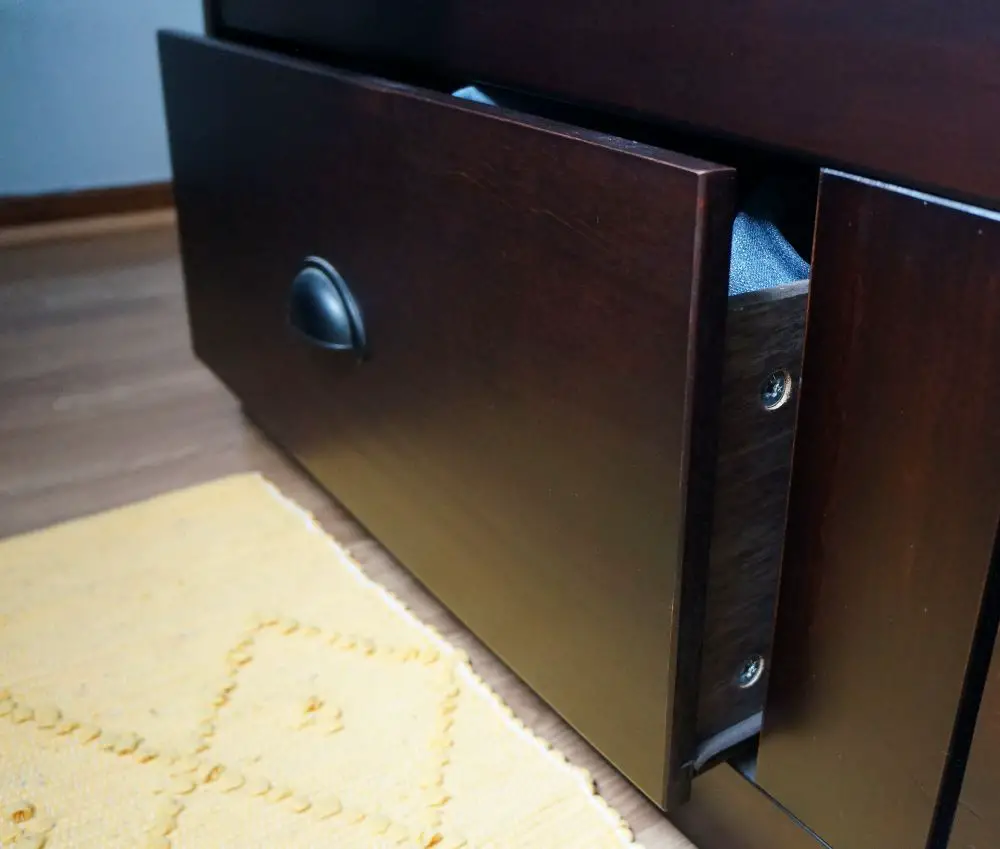 The bed also has a small shelf to put things in it, probably to serve as a bedside table but the truth is we never thought it was practical, mine has my notebooks and books.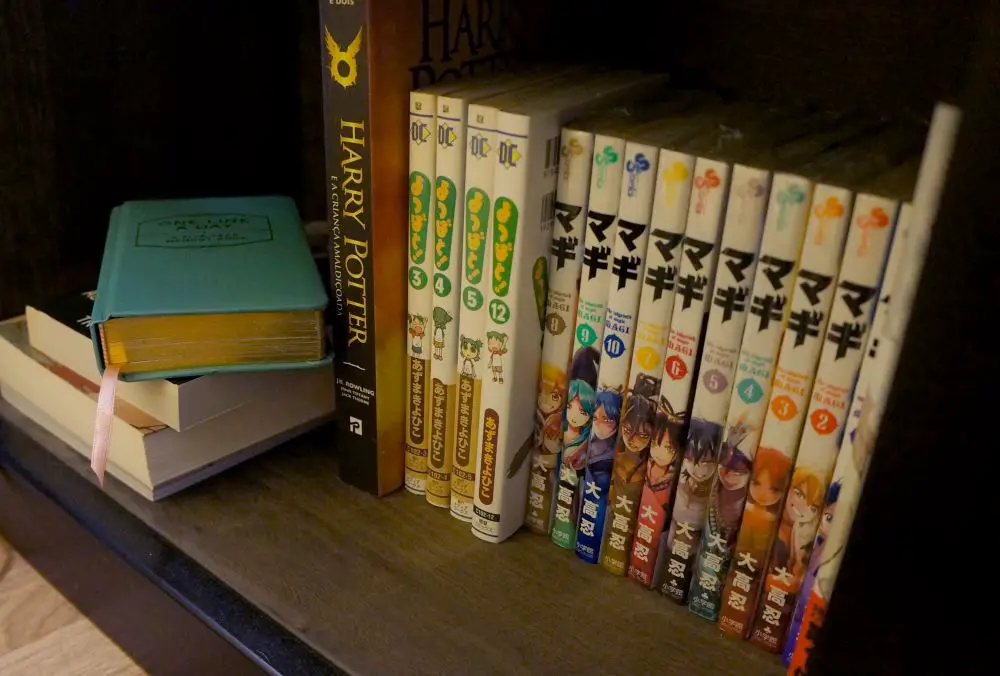 We also bought a big wardrobe when he moved in, meaning more storage! Our first piece of furniture built by ourselves.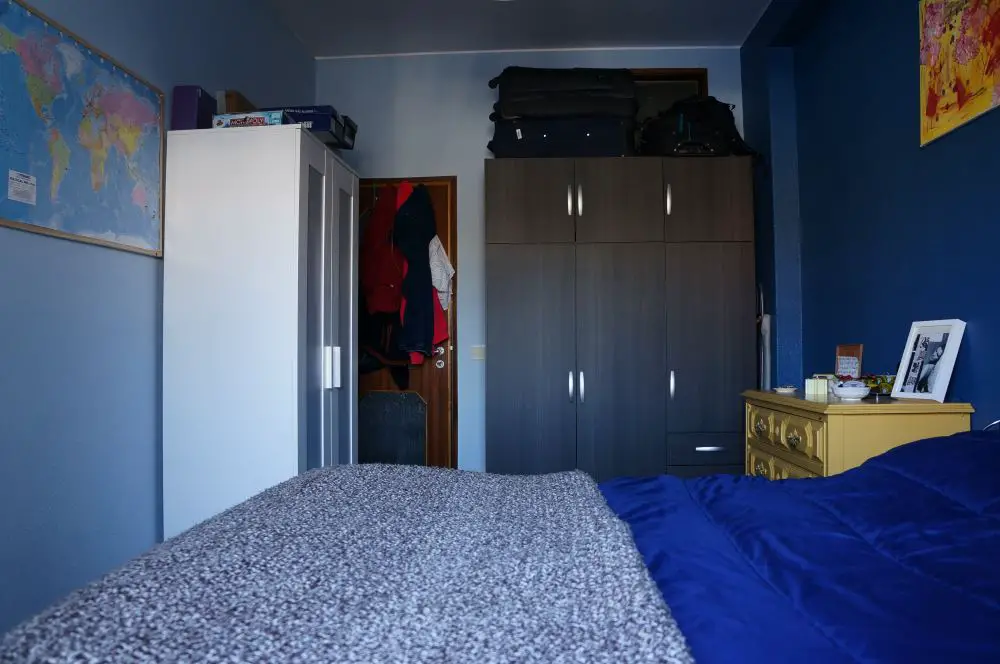 On top of the wardrobe it's our travel suitcases, useful to cover some of the light that comes out the bathroom, as there's a window connecting the two rooms. We store our ironing board (the one that I revamped a while back) next to the wardrobe in that little corner.
Ideally we'd only have the big wardrobe, but the white wardrobe from IKEA (ANEBODA), that my dad gave me when I originally moved in, is still super needed. We call it the black hole because it has everything that we don't know where to store around the house, I already made boxes to organize it but it's impressive the amount of different types of objects in there, from paints to gloves, a little bit of everything.
Boxes of electronics that are still under warranty and boxes with boots in the Summer and sandals during the Winter, are kept on top of the white wardrobe.
Last but not least, our laundry basket, also from IKEA (SKUBB) and our over the door hanger, which has mostly clothes that can be used again and some of my bags. These type of hangers are life-savers around the whole house, you'll see once I share the rest of the apartment.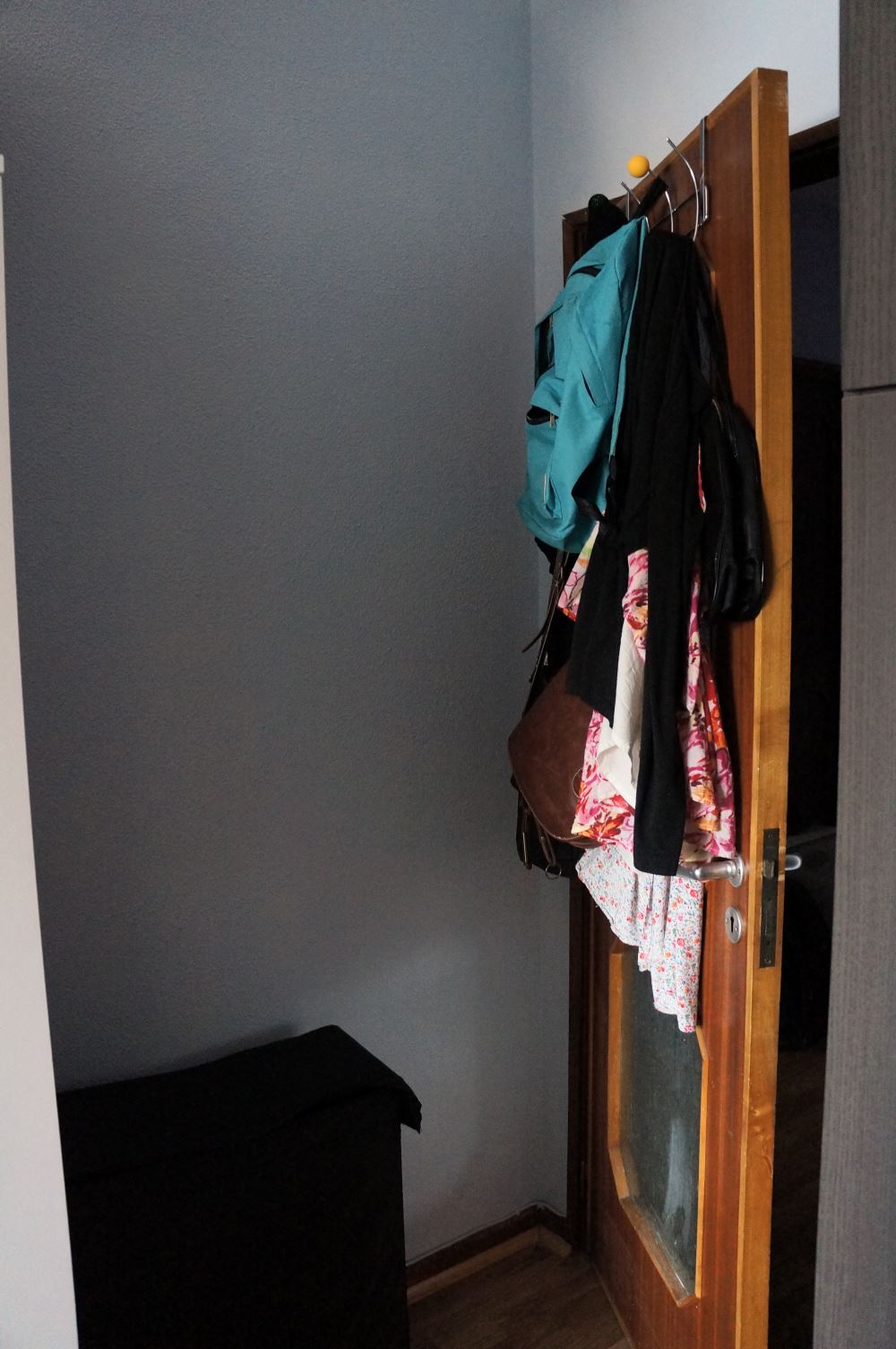 Last month, Daniel bought a TV for our bedroom, I've been resisting for a long time but I've finally lost. I took the photos for this post before we had the TV so thought I would share this. It definitely removes some of the peace of the bedroom but it leaves him happy so I'm okay with that.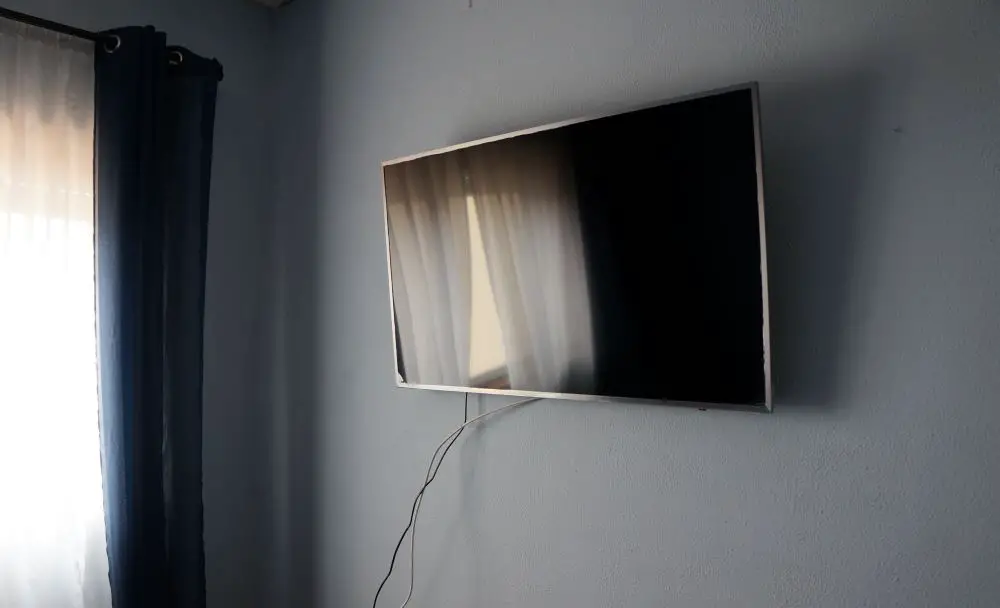 One another thing that I've changed recently was replacing my lightbulb with a yeelight, it's practical because it allows us to turn off the light from our bed and my reading light can finally go! It's also useful because we can keep the brightness lower in the morning.
And for today that's it, thanks for sticking around! I'll leave you with a photo of my unmade bed, as we rarely make the bed and I don't want you to think that I've this perfectly organized bedroom everyday, I wish I did but I don't!