Hey there 🙂 I'm back. I wanted to "open" the blog again before last week but I wanted to change it to my own domain. I've my love-tears.net domain so why wouldn't I use it? When I started Creations I made a blog in wordpress because I didn't want to be bothered with updates and etc but I realized that I've so much fun preparing layouts and personalizing it my way that I couldn't resist to put it here in my domain <3 You'll see that I love love-tears.net :P I decided to change the blog's name too, it's more magical and inspiring. I hope you like it. Olá 🙂 Estou de volta. Queria "abrir" o blog a semana passada mas achei que quando o fizesse teria de ser no meu domínio. Tenho o meu domínio love-tears.net porque não usá-lo? Quando comecei o Creations fiz o blog em wordpress porque não me queria chatear com actualizações e etc mas apercebi-me que me divirto tanto a preparar layouts e a personalizar à minha maneira que não pude resistir em pô-lo aqui no meu domínio <3 Irão ver o quanto adoro o meu love-tears.net 😛 Decidi também mudar o nome do blog, é mais mágico e inspirador. Espero que gostem. I'm going to keep this post short. When I saw this, I knew I had to make something like this for me, so I did. Here's my summer resolutions for 2010. I'm already trying to do my best to do everything 🙂 I really loved how it came out, I printed some scrapbook paper from Canon's website, glue it on canvas (a canvas which had a horrible painting that I did when I was younger and I really want to change it), arranged in the best way and covered it in contact paper so I can do this every year or every season 🙂 Vou tentar deixar este post curto. Quando vi isto soube imediatamente que o teria de fazer, por isso logo que tive a oportunidade fiz-lo. Aqui estão as minhas resoluções para o verão de 2010. Já estou a tentar fazer o meu melhor para as cumprir 🙂 Adorei o resultado. Imprimi papel de scrapbook do site da Canon, colei numa tela (uma tela que estava com um desenho horrível que fiz quando era mais nova e queria há muito renová-lo), organizei-o da melhor forma e cobri-o de papel contacto para fazer isto todos os anos ou todas as estações 🙂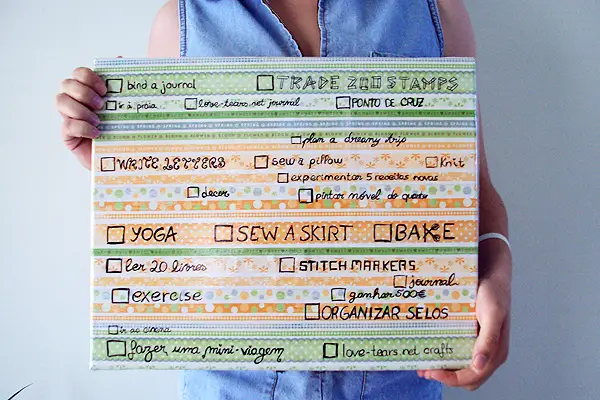 I'd love some feedback about my new blog, my layout (you can see now how passioned I am about webdesign) and I hope this marks a new journey.
Adorava algum feedback sobre o meu novo blog, o meu layout (podem ver como apaixonada sou por webdesign) e espero que isto marque uma nova etapa.
P.S. Check for the random inspirational quotes that I chose for making a day happier 🙂
P.S. Vejam as citações inspiradoras aleatórias que escolhi para tornar um dia mais feliz 🙂