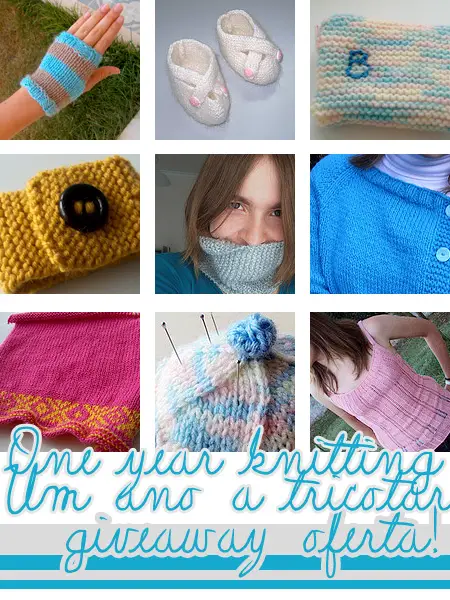 I don't have an exact day but somewhere in the middle of last year's July, closer to the end, I learned how to knit 🙂 In the end of July I knitted my first project (a glove). I can say that the truth is that I really wanted to learn how to crochet, I saw some beautiful stuff made in crochet and I asked my mom to teach me, I crochet for some days, but I didn't see anything really done just something useless. My mom told me that I could learn how to knit, it was easier to see results. After a few hours of knitting (and many dropped stitches) I saw something done it was just a square but it was more than I had done with days of crochet. Conserning crochet I know the basic stitches and etc but I'm not very handy with the crochet hook and the yarn holding, I'm actually better of it since I made a couple of things lately in crochet but it's still nothing like my joy for my knitted things 🙂. Não tenho um dia preciso mas algures durante o mês de Julho do ano passado, mais perto do final, aprendi a tricotar 🙂 No final do mês de Julho fiz o meu primeiro projecto de tricot (uma luva). Posso dizer que aquilo que na verdade queria aprender era crochet, vi umas coisas lindas feitas em crochet e pedi à minha mãe para ensinar, treinei alguns dias, só que nunca via nada concretamente feito, só qualquer coisa sem qualquer função para mim. A minha mãe disse que eu podia aprender tricot pois via resultados mais depressa. E nas primeiras horas a tricotar (deixando também alguns pontos para trás) vi alguma coisa feita, era apenas um quadrado mas foi mais do que fiz naqueles dias a aprender crochet. Em relação ao crochet sei os pontos básicos e etc mas não tenho muito jeito a agarrar a lã e a agulha de crochet, na verdade estou melhor em crochet porque fiz umas coisas ultimamente mas ainda não as vejo como vejo aquilo que tricoto 🙂
After this whole story, what really matters is that I decided to celebrate offering something to my blog visitors 🙂 The projects posted it's a small selection of things I've knitted, I decided to show things that were completely done. Depois de toda esta história, o que interessa é que decidi comemorar oferecendo algo aos visitantes do meu blog 🙂 Os projectos que foram apresentados foi apenas uma pequena selecção de coisas que tricotei, decidi só mostrar as coisas que estavam completamente acabadas.
Here's what I've for you: 100gr of tricots brancal's andrea (53% cotton, 47% acrylic) and 5 stitch markers, they were made by me, I'm not exactly experienced in jewelry (so there are defects) but I hope you enjoy them anyway, they were made with care. Aqui está o que tenho para vocês: 100gr de Andrea da Tricots Brancal (53% algodão, 47% acrílico) e 5 marcadores de pontos, foram feitos por me, não sou exactamente experiente em joalharia (logo existem defeitos) mas espero que gostem deles de qualquer forma, foram feitos com carinho.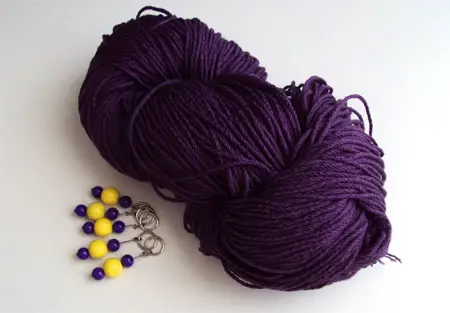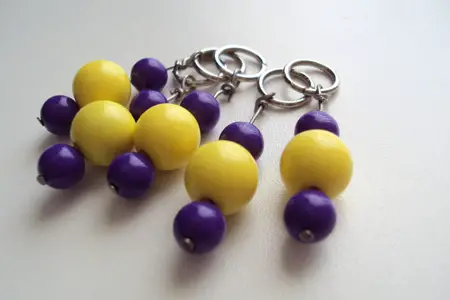 To participate all you've to do is to tell the short (or big) version of how did you start knitting. I'll accept entries until 7th August at 12:00 UTC+1. In the 9th I'll announce the winner 🙂 I'll contact the person by e-mail so please give me a valid e-mail when commenting (it's not necessary to write your e-mail in the actual comment, just in the form). Para participar basta comentar e contar a pequena (ou grande) versão de como começaram a tricotar. Irei aceitar entradas até dia 7 de Agosto às 12:00 UTC+1. Dia 9 anuncio o vencedor 🙂 Irei contactar a pessoa por e-mail por isso dêem um e-mail válido ao fazer o comentário (não é necessário escrever no próprio comentário o e-mail, só no formulário). This offer it's available for everyone! Esta oferta está disponível para todos!
Have fun! Divirtam-se!